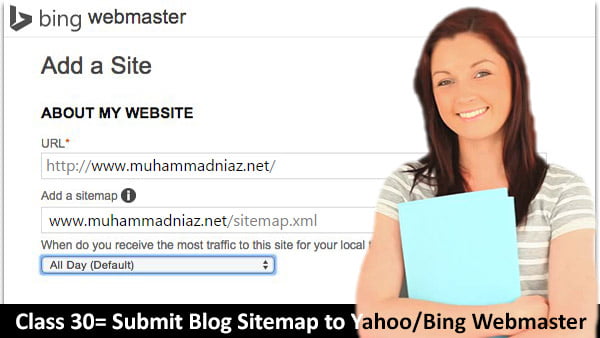 This is Blogger Class NO# 30, in this video tutorial you can learn how to submit A Sitemap to Bing/Yahoo Bing Webmaster tools in Urdu Language OR Hindi Language. Sitemaps are an excellent way to tell Bing Search Engine about URLs on your site that would be otherwise hard to discover by Bing web crawler. There are several formats you can use as Sitemaps to submit to Bing. if you want to get more information about your site from search engines, Then your sitemap helps search engines learn about your blog. Before watching this Video first Watch this video tutorial (How to Add Blog in Bing/Yahoo Search Engine) and then watch this is tutorial (Submit Blog Sitemap to Yahoo/Bing Webmaster).
Submit Blog Sitemap to Bing Webmaster Tools
Yahoo has merged its search results with Microsoft Bing and now. all the ranking and back end data of Yahoo! search will be powered by Microsoft. Yahoo! has been trying hard to compete with Google's search algorithm and their merger with Microsoft may be the best strategy to gain back market share.