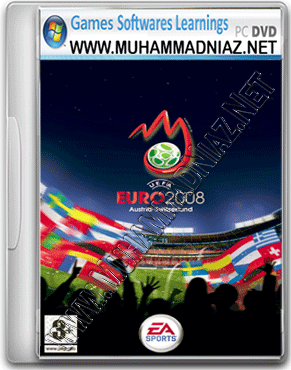 UEFA Euro 2008 is the official video game of the Euro 2008 football tournament, published by EA Sports.
UEFA Euro 2008: Play as one of 53 teams from qualification right through to a virtual reproduction of Euro 2008 in Austria and Switzerland.
Captain Your Country: Play as yourself on the same team with up to three friends, all playing individual positions on the pitch. Compete collaboratively to win games but compete against each other for the captaincy. Develop your player through eight status levels to earn the captaincy of your country and the right to lead your team.
European Campaign: Represent your country online against your rivals around the world to win global supremacy. Earn individual and team points.
Online Knockout Draw: Battle gamers from other nations online in 16-team single elimination tournaments to gain points for your nation.
Home & Away Match Strategy: CPU mimics international football by creating strategic, defensive formations for away teams intent on playing for a draw.
Authentic Stadiums: Compete in all 8 official stadiums of Euro 2008.
Dynamic Player Ratings: Real-time player ratings change based on actual player performance, simulating the momentum swings of a real season.
Story of Qualifying: Play the qualifying campaign and step up at key defining moments to lead your country to Europe's biggest prize. Complete team and individual tasks.
Dynamic Rain and Mud: Winter weather from across Europe is authentically re-created to simulate real-world playing conditions. Experience driving rain that creates sloppy, muddy pitches which dramatically impacts passing and player performance.
Enhanced Penalty Kicks: Experience the challenge of a penalty shoot-out as if you were on the pitch. Master your nerves to score the goal that puts your team in the final.
Team Managers: Watch reactions from team managers on the sideline as they shout encouragement or become disappointed in your team's performance.




System= Pentium IV CPU 1.7 GHz
RAM= 1 GB
Size= 1.54 GB
Video Memory= 64 MB
OS= Windows 98 ME 2000 XP Vista 7 8/8.1 10 and Windows 11

for more visit= www.muhammadniaz.net
Download Link Here