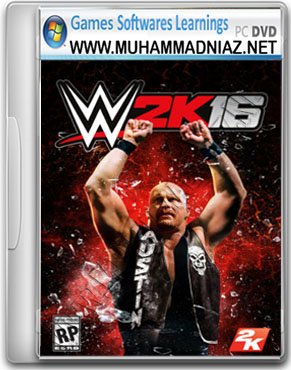 WWE 2K16 is a professional wrestling video game developed by Yuke's and Visual Concepts. In this Game Reversals have been changed so players have a set amount of reversals per match, preventing players from spamming reversals all match. On next-gen versions, there are no loading screens between entrances, and players have the ability to attack other wrestlers during their entrance. Referee and manager AI has been improved. The chain wrestling minigame has been reworked. Pins and submissions have been reworked and improved, with a new system replacing the previous one, allowing for fairer breakouts and newer animations have also been added, including dirty pins and canceled pins. Online matchmaking has also been improved. WWE 2k16 will also feature rest holds characters can use to regain stamina. Gameplay in the PS3 and Xbox 360 versions remains largely the same as in previous iterations on those respective consoles, though does include smoother animations for a number of moves.
WWE 2K16 Full Game
Access to two playable versions of Arnold Schwarzenegger as T-800 from The Terminator and T-800 from Terminator 2: Judgment Day;
MyPlayer Kickstart
Players will gain instant access to boost created Superstar ratings and attributes in the game's MyCareer mode;
Accelerator
Players will gain instant access to all unlockable content available in the game;
New Moves Pack
More than 30 new moves, including the Corner Enzuigiri (made popular by WWE Diva Nikki Bella), Avalanche Ram (made popular by WWE Diva Paige), Sidewinder Suplex (made popular by WWE and NXT Superstar Kevin Owens), Standing Crossface Chickenwing (made popular by WWE Superstar Stardust) and Dragon Sleeper (made popular by NXT Superstar Finn Bálor);
Legends Pack
Playable WWE Legends: Big Boss Man, Dusty Rhodes, Lita, Mr. Perfect, "Rowdy" Roddy Piper and Trish Stratus;
Future Stars Pack
Playable NXT Superstars: Samoa Joe, Diego, Fernando, Blake and Murphy;
2015 Hall of Fame Showcase
Playable matches include:
"Macho Man" Randy Savage vs. Jake "The Snake" Roberts;
Rikishi vs. The Rock;
Alundra Blayze vs. Paige;
Larry Zbyszko and Arn Anderson vs. Ricky "The Dragon" Steamboat and Dustin Rhodes;
Tatsumi Fujinami vs. Ric Flair;
The Bushwhackers (Butch Miller and Luke Williams) vs. The Natural Disasters (Typhoon and Earthquake);
The Outsiders (Kevin Nash and Scott Hall) vs. Harlem Heat (Booker T and Stevie Ray).




System= Core i3 CPU 2.0 GHz
RAM= 4 GB
Size= 40.83 GB
Video Memory= 1 GB
OS= Windows Vista (SP2), 7, 8/8.1 and Windows 10 (64Bit)
Password= www.muhammadniaz.net
Download Links Here