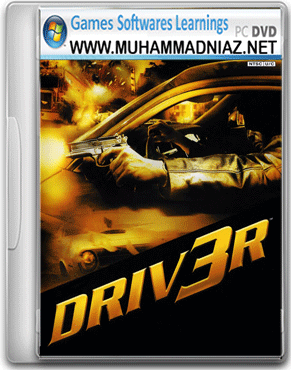 Driv3r more commonly known as Driver 3 (marketed as DRIV3R), is a racing, shooting, and adventure video game. It is the third installment in the popular Driver series and was developed by Reflections Interactive and published by Atari. Driv3r was released in North America for the PlayStation 2 and Xbox on June 21, 2004. In Europe, it was officially released on June 25, although due to the way Atari shipped the title across the continent, it made its way into independent UK retailers before the release date, even making a #6 position in the ELSPA chart for that week. On March 15, 2005, it was released on PC for US customers, it was also released on Game Boy Advance October 25, 2005. At one point a Nintendo GameCube version and an N Gage version were planned, but both were canceled.
Driv3r brings back features from Driver 2 and adds the ability to ride motorcycles and boats, use weapons, swim, climb ladders, and enter certain buildings among other things, controlling more than one character, as well as entering and exiting cars.
Driver 3
Although two Driver games were published between them, 2011′s Driver San Francisco is considered the sequel to Driv3r. The Wheelman returns in his most dangerous adventure yet an interactive driving epic on par with the most intense Hollywood action blockbusters. Undertake a wide variety of high speed vehicle based missions and go deeper undercover than ever before.
The game's driving portions are better than the on foot stuff, but not all that much better. You're given a map of the city with a pretty clear indication of where to go, and you're usually in a hurry, so there isn't much time to explore the game's cities in the story mode. The physics behind the driving appear to be designed to give you that '70s cop show car chase feel, in that everything has been exaggerated. Even the slightest turn around a corner is a tire screeching, sliding out affair. Getting slammed hard by a cop car might send you flying into the air, causing you to barrel roll a half dozen times before crashing back to Earth.
Driver 3 is full of the sorts of glitches and problems that final retail products shouldn't have. On top of that, a recently released patch for the game doesn't fix many of its showstopping problems. The control is terrible, the visuals are buggy, and the AI is straight-up broken. Short of being threatened at gunpoint, there's no acceptable reason to play this game.



System= Pentium 4 CPU 2.0 GHz
RAM= 256 MB
Video Memory= 96 MB
Size= 622 MB
OS= Windows XP, 2000, Vista, 7 and Windows 8
for more visit= www.muhammadniaz.net
Download Links Here