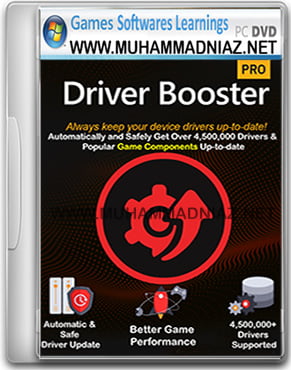 In this video tutorial you can learn how to Replace Outdated Drivers and Install Latest Update Drivers with Driver Booster In Hindi Urdu Language.
Driver Booster Easily Detect & Update Over 2,500,000 Outdated, Faulty, Missing & Game Ready Drivers, For high performance of your windows system, software and hardware need to work accordingly with each other. So it is necessary to get device drivers regularly updated and always function properly.
For Smooth Game Performance: It easily keeps graphics drivers and Game Ready drivers updated to get best performance of hardware and take gaming to the next level. It also quickly shuts down background processes and unnecessary Windows Service to unlock the full potential of your PC game. Game components for most PC games are also available to help launch your game successfully.
Driver Booster Software Supports Windows 10/8.1/8/7/Vista and also Windows XP.
Watch Learn and Share this video with your Friends & Family.
Driver Booster Pro
for more Free Download= www.muhammadniaz.net
Driver Booster Download Link