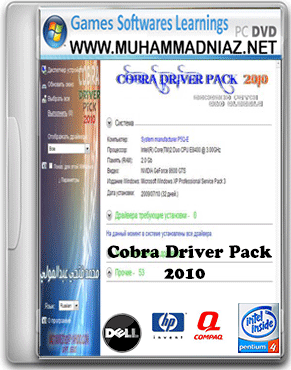 Cobra Driver Pack 2010 is All In One Driver for Windows 7, Windows XP and Windows Vista. This driver is suitable for which a computer technician with a Cobra Driver Pack all versions of hardware drivers for Windows XP, Windows Vista and Windows 7 will be met. For a long version of a computer usually do not have the CD driver for mainboard / motherboard luggage such as chipset, DirectX, LAN, Sound, USB, VGA (Graphics Card), etc. If you have an old computer but do not have the CD hardware drivers and knew nothing about the details of information, one solution is to use a Cobra Driver Pack 2010.

Cobra Driver Pack 2010 is the most popular program that makes the job of finding and automatically installing drivers a pleasure.
Cobra Driver Pack 2010 simplifies the process of reinstalling Windows on any computer. No more problems with searching and installing drivers. Everything will be done in a couple of mouse clicks!

Cobra Driver Pack 2010
Automated driver installation
The program installs all required drivers to any computer in just about 5 minutes.
Saves Time and money
No more wasting time on looking for drivers; all required drivers will be installed with only a few clicks.
Any driver for any computer
All drivers on a single CD! Simplifies downloading new drivers from the Internet.
Drivers update capability
Updates previously installed drivers to their latest versions.
Windows 8 / 7 / Vista / XP
Supports all modern operating systems!
Both 64-bit and 32-bit versions!
Easy to use
Simple and foolproof interface.
Customization ability
Our program is open source software.
for more free visit= www.muhammadniaz.net
Download Links Here