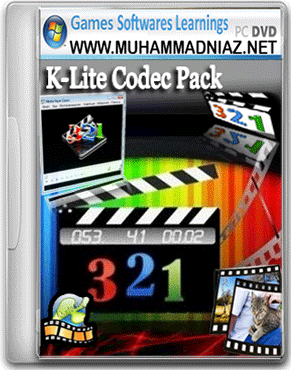 K-Lite Codec Pack is a collection of codecs, DirectShow filters and tools. Codecs and DirectShow filters are needed for encoding and decoding (playing) audio and video formats. The K-Lite Codec Pack is designed as a user-friendly solution for playing all your movie files. With the K-Lite Codec Pack you should be able to play all the popular audio and video formats and even some rare formats.
K-Lite Codec Pack always very up-to-date with the newest (and/or best) versions of the components. The installation is fully customizable, meaning that you are able install exactly those components that you really want. Uninstallation removes all files and registry entries created by the pack. It is extremely easy to make a fully customized unattended installation. It tries to avoid potential problems with existing codecs and even fixes some problems.
The pack is able to detect broken codecs and filters on your system, and remove them for you.
It is a very complete package, containing everything you need to play your movies. Suitable for both novice and expert users. The K-Lite Codec Pack is compatible with Windows 98, 2000, XP, 2003, Vista, Seven 7 and Windows 8.
Features of K Lite Codec Pack:
Player:
* Media Player Classic Homecinema
* Media Player Classic
ffdshow:
* ffdshow
* ffdshow VFW interface
DirectShow video decoding filters:
* XviD
* On2 VP7
* MPEG-2 (DScaler5)
* MPEG-2 (Cyberlink)
DirectShow audio decoding filters:
* AC3/DTS/LPCM (AC3Filter)
* Vorbis (CoreVorbis)
* AAC (MONOGRAM)
DirectShow audio parsers:
* FLAC (madFLAC)
* WavPack (CoreWavPack)
* MusePack (MONOGRAM)
* Monkey's Audio (DCoder)
* OptimFROG (RadLight)
* AMR (MONOGRAM)
* DC-Bass Source
* AC3/DTS Source (AC3File)
DirectShow source filters:
* Haali Media Splitter
* AVI splitter (Gabest)
* MP4 splitter (Gabest)
* Matroska splitter (Gabest)
* Ogg splitter (Gabest)
* MPEG PS/TS splitter (Gabest)
* FLV splitter (Gabest)
* RealMedia splitter (Gabest)
* CDXA Reader (Gabest)
* MPEG audio splitter (Gabest)
DirectShow subtitle filter:
* DirectVobSub (a.k.a. VSFilter)
* DirectVobSub (a.k.a. VSFilter)
Other filters:
* Haali Video Renderer
VFW video codecs:
* XviD
* x264
* On2 VP7
* Lagarith
* huffyuv
* Intel I.263
* DivX
* YV12 (Helix)
ACM audio codecs:
* MP3 (Fraunhofer)
* MP3 (LAME)
* AC3ACM
* Vorbis
* DivX WMA
Tools:
* Codec Tweak Tool
* Win7DSFilterTweaker
* MediaInfo Lite
* GSpot Codec Information Appliance
* VobSubStrip
* GraphStudio
* Haali Muxer
* FourCC Changer
* Bitrate Calculator
Changes K-Lite Mega Codec Pack
Updated ffdshow
Updated Haali Media Splitter to version 1.11.96.1
Updated x264VFW
Updated Xvid
Updated Lagarith
Updated Codec Tweak Tool
Updated Win7DSFilterTweaker
Updated MediaInfo

more Free Download = www.muhammadniaz.net
Download Links Here