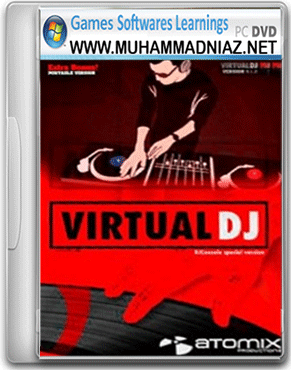 Atomix Virtual DJ Pro is the hottest AUDIO and VIDEO mixing software, targeting DJs from the bedroom, mobile, and professional superstars like Carl Cox.
With VirtualDJ's breakthrough BeatLock engine, songs will always stay in beat, and the DJ works their mixes incredibly faster than they ever could.
The automatic seamless loop engine and synchronized sampler lets the DJ perform astounding remixes live, with no preparation at all. The visual representation and the cues allow a DJ to clearly see the song structure, and never be surprised by a break. The vinyl controls will let you scratch like on a real turntable, except that with the beatlock engine your scratches will never end out of the beat.
Add to that the infinite number of cue points a DJ can save for each song and large collection of wonderful automatically beat-synchronized effects. And with VirtualDJ's large collection of skin interfaces to suit everybody from the beginner to the professional DJ, the possibility to record the DJ's mix to then burn to CDs, to broadcasting on the Internet and/or the DJ's own radio station, to use headphones to preview the song, or use an external mixer to perform in a club; VirtualDJ is a DJ's ULTIMATE mix software.
Lastly, enter the new era of DJs mixing video enhanced songs (DVD, DivX, MPEG…) which can be sent to monitors, TVs, a projector for display on a giant screen.
VirtualDJ brings all that and more to the DJ in the most easy-to-use way and at the most affordable price for the ULTIMATE DJ MIX EXPERIENCE.
VirtualDJ Features
up to 99 independent zero-latency players with:
Standard controls (play, pause, stop, cue)
Pitch control with Master Tempo (from -100% to +100%)
3 band equalizer High, Mid, and Low with Kill and +/-30db gain
Independant key control
Resonant filter
One-click beat matching and synchronization (FAME algorithm)
BeatLock engine for keeping songs in-sync and in-time
Dynamic beat-matching visualizer
Automatic beat-matched crossfading
Automatic BPM and KEY calculation
Automatic pitch matching
Automatic audio gain matching
Real scratch simulation
Automatic seamless and beat-aware LOOP functionality
Synchronized sampler with 12 instant record and playback slots
Time-Stretch and Master Tempo Pitch algorithms
Automatic first beat and last beat detection
Automatic 4/4 phase detection
Infinite number of cue points per song saved for instant recall each time the song is loaded
Beat-aware effect plugins (included: beatgrid, flippin doubles, vocal remover, frequency filter, flanger, backspin, brake, etc…)
VST effects compatibility (PC version Only)
Video mix with windowed or FULL SCREEN TV output using 2nd video output
Karaoke CDG+MP3 and/or ZIP support
FreeFrame and custom video effects
Infinite number of video effects applied simultaneously
DJ-specific video transition plugins
Song database engine with easy-to-use search feature
CoverFlow or text-only song browsing
Compatible with iTunes playlists (iTunes DRM files not supported)
MP3 ID3 Tag compatibility
User-defined automatic filter folders
Automatic Hot-Swap of external hard drives
Ready-to-burn recording of a DJs mix to CD
Broadcast on the Internet
CD to MP3 encoder
Multi-channel sound card, dual-sound card or Y-splitter output for real-time monitoring or external mixer use
ASIO soundcard compatibility
CoreAudio soundcard compatibility
Fully customizable skin engine and shortcut macro engine
VDJScript: powerful macro language used in skins, shortcuts, or controller mapping
www.muhammadniaz.net
Compatibility and customizable mapping with most external MIDI and HID controllers (more than 80 included, many more downloadable)
Optional automatic playlist mixing: VirtualDJ recognizes the style of the music (techno, hip hop, lounge) and adapts the mix accordingly
Netsearch: search and play any song from an online database of more than 8 million tracks
MusicGroup: get live recommendations based on what you play and the feedback from millions of other DJs around the world
GenuisDJ: automatically fill your folders with the latest hits depending on what you usually play



2021 Version Requirements
Processor= Intel i3 or better, or M1 processor
RAM= 4 GB
Storage = 700 MB
Multi-channel DirectX compatible soundcard
for more visit= www.muhammadniaz.net
Download Links Here