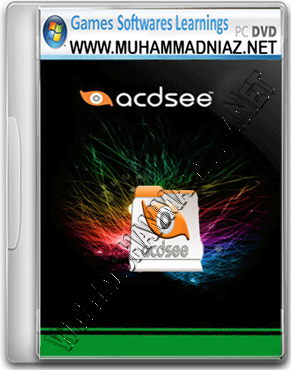 ACDSee is the essential photo management tool for enthusiasts, amateurs and professionals. Enjoy the freedom to find, organize, edit and share your photos faster and easier, with the best results ever: Display your files in 50+ popular formats Search for images using several criteria at once Print photos in popular or custom sizes E-mail or publish PDF and Flash slide shows. Fine tune edits and batch functions. Burn images on CD or DVD.
Import, view, organize, print, enhance, share and archive your digital photos:
ACDSee Standard is easy to use for everyone from beginner to professional level, and also powerful and flexible enough to meet your needs as your image collection grows. "Indispensable," says American Photo Magazine.
See Photos & Video Fast:
ACDSee Standard step Acquire Wizard automatically finds pictures for importing from cameras, scanners, CDs and other devices. See your images and videos instantly. Check details by zooming, panning, or using the magnifying glass view. Correct and Enhance for Superb PhotosUse one-click tools such as exposure adjustment to fix photos fast. Use precision controls for fine adjustments to color, brightness and contrast. Fix red-eye. Rotate, resize and crop to standard print or screen sizes. Plus, apply filters such as sepia for stylish effects. Edit and rename images in batches.
Find Any Image and Organize to Save Time:
Whether you have hundreds or thousands of photos you can always find them fast with ACDSee. Click folders to view the images in them. Click calendars to view by date. Sort thumbnail-size views by any image property such as file size or camera metadata. Perform precision searches. Organize photos into categories, personal ratings and favorites lists.
Share Prints, Slideshows, Web Albums and Photos on CD/DVDPrint images in popular sizes or contact sheets. Burn photos to DVD or CD. Make slideshows and screensavers. Share on the web and e-mail.
Archive and Back Up Pictures for Safekeeping:
Archive photos, video and other files to CD or DVD using a wizard. Back up the image database in full or incremental backups.
Save Time with Power Features:
Batch, Database, Power features include a relational database for fast searches, metadata tools, customization features and more batch functions than any other product. Plus, add photo plug-ins for additional specialized features.

for more visit= www.muhammadniaz.net
Download Links Here