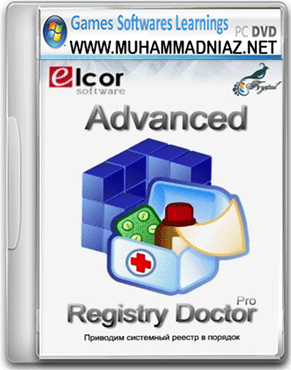 Advanced Registry Doctor Pro Premium is capable of scanning for, diagnosing and curing multiple registry problems, which averts possible malfunctions and crashes, and significantly improves the speed of computer loading and performance. In addition, the program comes with a set of advanced options, like registry defragmenting, built-in scheduler, backup and restore feature, history log and many other perks. The registry is one of the most essential components of Windows OS, critical to proper functioning of any PC computer. Unfortunately, as more and more programs gets installed and then removed, the registry becomes more like a digital dump, full of incorrect shortcuts, invalid extensions, and missing entries, which dramatically hinders computer performance.
This version of software looks through the following data for possible "registry spoilers": application paths, uninstall information, COM/ActiveX objects, help files, file extensions, font files, most recently used files list, shared DLLs and folders, startup applications, Windows/MS-DOS Shortcuts. The automatic cure options means that any person, regardless of his or her PC literacy level can solve registry problems by simply pressing a button. Advanced users can opt to make registry changes manually.
ARD can bring some of the dead links back to life. For example, that is if you've accidentally moved your files (font files, help files, shared folders, shared DLLs, etc) to some other place. The main point of using ARD is that it will do the entire job for you; you just have to select which problems to search (categories) and HDD list, which will be used by the program for finding solutions. Usually you'll have to use ARD when new program is installed/removed. Advanced Registry Doctor is an excellent registry repair program. If you wish to clean up your registry to make it quicker, fix a recurring error or broken link, or catch early signs of severe problems, registry repair software is for you. Advanced Registry Doctor offers one-click solutions which reveal its user friendly format. You may end up removing vital pieces of information that can destroy your entire system if you are not careful. Advanced Registry Doctor Pro offers categorical division of detected errors, individual undo functionality, registry backup and system restore functions. The addition of severity rankings is a features that increase this product's security.
Several convenient features of Advanced Registry Doctor:
Automatic Repair

System and Registry Backup

Compress or Defrags Registry

Quick and Full Registry scan

Advanced and Novice modes

Individual Undo

Scheduling abilities

Powerfull customization options
The Startup Wizard will help you to view and modify list of applications which load at Windows startup. Also, you may undo individual corrections, restoring them to their original state. The registry defragmentation option allows you to defrag the registry after you have made corrections. The built-in schedule creator allows easy scheduling of scanning times. Customization options, such as opening errors and editing data, are also available with this program. Advanced Registry Doctor has a very simple, user friendly navigation system. It is appropriate for both the novice and advanced registry user. With a simple, one click system, you can easily scan the registry from the navigation screen. You can choose to fix all of the problems detected or select individual errors for repair. The help and documentation segment for this program was useful. The convenient documentation button grants instant access to the program help manual. There are also available FAQs and email support.
Advanced Registry Doctor has several applications designed to contribute to its overall safety. It divides the list of errors into individual categories and offers individual undo functionality as well as a registry backup and system restore function.
Advanced Registry Doctor Pro offers some excellent features and is very easy to use.

1. Download and Extract with WinRAR
2. Password= www.muhammadniaz.net
3. .exe File Format (Setup Full Version)
4. You now have a much easier installation
5. Run Application
6. Click on "Install Now" For Install Software Full Version
Enjoy
Password= www.muhammadniaz.net
Download Links Here