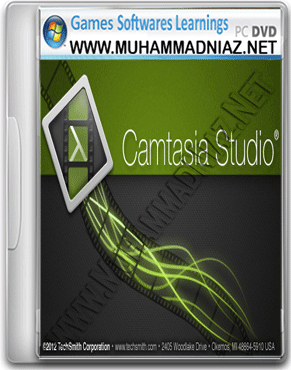 Camtasia Studio is a Screen Recording & Video Editing Software. A powerful, yet easy-to-use screen recorder, Camtasia helps you create professional videos without having to be a video pro. Easily record your screen movements and actions, or import HD video from a camera or other source. Customize and edit content on both Mac and Windows platforms, and share your videos with viewers on nearly any device. Show your ideas, spread the word, or share knowledge with a video. From quick video demos to extensive video projects, Camtasia has all the editing tools to create the great video content you need to get the job done. Quickly record your webcam or screen, engage your viewers with a variety of effects, and easily share your videos to anyone, anywhere.
Camtasia Studio Features
Screen Recording
Capture smooth, high-quality videos with Camtasia's world-class screen recorder. Record a window, region, or your entire screen with just a click.
Mobile Video
TechSmith Fuse, our free mobile app, makes it easy for you to get photos and videos from your mobile device straight to Camtasia for editing.
Video Customization
Personalize your videos by recording webcam video or importing existing videos. Add photos, music, and more to create unique videos that stand out.
Multi-track Timeline
Construct engaging videos faster with multiple video and audio tracks. The ability to easily manipulate, overlay, and group objects helps you produce creative, professional-looking videos.
Visual Effects
Call attention to important details with TechSmith's SmartFocus (or cover up sensitive information with the video blur tool), use Clip Speed to make your videos the perfect length, or use our screen drawing tools to telestrate your videos.
Green Screen Effect
Use the green screen feature (also known as Remove a Color) to put yourself in your video making it appear like you're right in the action.
Animate Content
Captivate viewers with animated content that helps guide them through your videos. Easily make callouts fly across your screen, an image bounce up and down, text scroll, and more.

Note: if you Don't know how to Download, Install and Registered TechSmith CamtasiaVersion then Click Below and Watch Video Tutorial 
اگرآپ کواکیمٹاسیا کوڈاؤن لوڈ ،انسٹال اوررجسٹررکرنےمیں مسئلہ درپیش ہو تو نیچےدئیے(مطلوبہ ورزن کے) لنک پہ کلیک کریں اورویڈودیکھیں
For more Free Download= www.muhammadniaz.net
Download Links Here