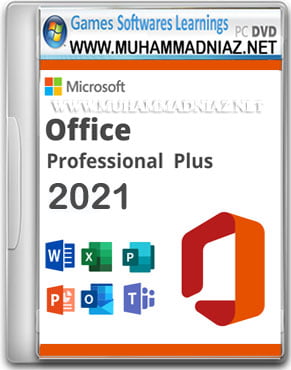 Microsoft Office 2021 – Office 16 introduces new dynamic arrays, XLOOKUP features for Excel, full dark mode support and performance improvements. The office suites updates includes better support for the OASIS OpenDocument file format. The version update adds features to let function, has better search for XMatch function, dynamic arrays, XLOOKUP. It enhances Ink for Translate in Microsoft Outlook and MS PowerPoint.
Microsoft Word 2021 speeds up work on documents even more, for example, with an integrated translation tool, a dictation function, and improved spelling correction including grammar correction. With speech output, you can have texts read to you while you write in parallel, and voice input has also been improved. The new editor now allows you to accept writing and spelling suggestions directly with a click. Another new feature is the improved recognition of virtual ink – sentences written with a digital pen on a display are thus converted into typewritten text even more error-free. In addition, there are numerous individual improvements: With SVG graphics, more complex image documents can now be integrated, scaled and edited without taking up much memory. HEIC images from iPhones or iPads can be inserted directly without conversion
Microsoft Excel now offers dynamic arrays and an improved XVERWEIS function in Professional Pro Edition 2021, in addition to a range of functions and filters such as timeline filters for professional analysis and editing of tables. In addition, the table functions for financial calculations such as have been improved once again; as before, the great compatibility, especially with CSV files.
Microsoft PowerPoint 2021 has integrated a variety of effects such as morphing as well as further image editing options; Ultra HD files can be inserted directly into presentations as well as graphics can be freely scaled; the zoom function makes it possible to zoom into an image. Animations can also be performed with the digital pen. PowerPoint file sharing options now include speaker view, and Microsoft Forms lets you launch a direct poll among meeting participants.
Microsoft Outlook 2021 has further improved comprehensive, global collaboration with colleagues and partners across all locations in different time zones. Time differences are automatically taken into account when scheduling appointments; the new Outlook also supports the creation and management of any number of e-mail accounts – especially beneficial for users with multiple accounts. Messages from Outlook can be shared directly with others in Microsoft Teams, and a new dictation toolbar including enhanced voice commands and automatic punctuation make composing e-mails easier.
Access 2021 now better supports the deployment of various database applications that work directly in the browser, thereby saving valuable storage space. The data stored on top of it, for example, is made available in a Microsoft SQL database for secure access.
Publisher 2021 includes new options and features especially for editing graphics to use them in interesting presentations and publications: including improved pen recognition and accelerated collaboration with Access.
MS Office Edition Professional Plus 2021 also includes the two applications OneNote and Microsoft Teams, which replaces Skype.


System= Core 2 Duo  CPU 2.0 GHz
RAM= 4 GB (x64/64Bit)
Storage= 4 GB
Display= DirectX 9 Graphics card and a 1280 x 768 or Higher Resolution
Graphics hardware acceleration requires DirectX 9 or later, with WDDM 2.0 or higher for Windows 10 (or WDDM 1.3 or higher for Windows 10 Fall Creators Update).
OS= Windows 10, Windows Server 2019
.NET version= Some features may require .NET 3.5 or 4.6 and higher to also be installed
For more visit= www.muhammadniaz.net
Download Link Here