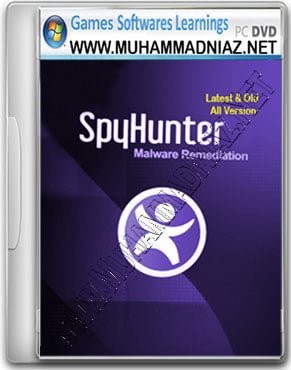 SpyHunter is a comprehensive anti malware solution designed to provide online protection and security against ransomware, viruses, trojans and other threats. It's a Windows application designed to scan for, identify, remove and block malware, potentially unwanted programs "PUPs" and other objects. Avoid Becoming a Cyber Victim & Check Your Computer for Malware with SpyHunter!
SpyHunter Features
Detects
SpyHunter Takes Proactive Steps to Protect Against Malware, An adaptive malware detection engine that received a 100% effectiveness score by AV-TEST, a highly regarded security testing institute.
Removes
Removes the latest adware, browser hijackers, trojans, worms, scamware, viruses & other malware from the computer safely.
Blocks
Real-time blockers designed to prevent malware & potentially unwanted apps from installing or executing.
Malware Protection
Detect, remove and block ransomware, trojans, rootkits, botnets, keyloggers, worms, browser hijackers, adware, and other harmful or unwanted objects.
Detection & Removal of Potentially Unwanted Programs & Privacy Issues
Detect and remove grayware, potentially unwanted programs, certain tracking cookies, and other nuisances. Users have the option to individually exclude these programs, if they wish.
Advanced Removal Capabilities
SpyHunter's advanced removal mechanism utilizes a customized low-level OS that operates beneath Windows to effectively remove rootkits and other stubborn malware infections.
Latest Malware Definition Updates
Regular malware definition updates ensure complete protection from the latest malware threats.
One-On-One Customer Support
SpyHunter includes the Spyware HelpDesk: an interactive one-on-one customer support solution designed to handle any issues that SpyHunter is not able to automatically solve.
Custom Malware Fixes
Custom malware fixes created to deal with your computer's specific malware problems. SpyHunter's Spyware HelpDesk generates and transmits a diagnostic report that is analyzed by our technicians, and an automated custom fix addressing the issue is sent back to you via SpyHunter.
Exclusions
The exclusions feature allows you to exclude certain programs from being detected in future SpyHunter scans.
User Friendly Interface
The easy-to-use interface enables the users to quickly modify SpyHunter's behaviour according to their needs.



System= 1 GHz CPU or faster
RAM= 1 GB
Space= 200 MB
OS= Windows XP (SP3), Vista, 7, 8/8.1, 10 and Windows 11