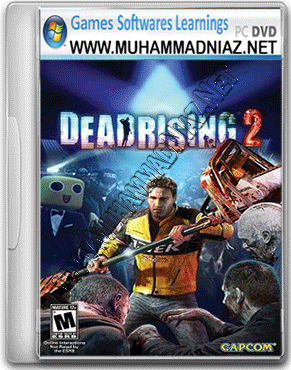 Dead Rising 2 is a open world action survival horror video game. The player controls protagonist Chuck Greene as he fights off hordes of zombies while accomplishing specific missions. The game includes several new objects that can be used to attack the zombies. Up to 7,000 zombies can be seen onscreen at the same time.
Dead Rising 2 allows players to manufacture their own custom weapons at various points in the game by collecting items and combining them together in maintenance rooms scattered across the game map. The player also has the ability to unlock "combo cards" that reveal weapons that can be combined together. Such combinations include the "Hail Mary," a hand grenade duct taped to a football, "Dynameat," a stick of dynamite duct taped to a piece of meat, the "Paddlesaw," two chainsaws duct taped to a kayak paddle, and "Spiked Bat" which is a baseball bat with nails hammered through the item.
Like the first game, boss fights are represented by 'psychopaths', people who have either been driven insane by the zombie outbreak or are taking advantage of it to fulfill their cruel desires.
Sequel to the critically acclaimed and 1 million+ selling Dead Rising: Dead Rising 2 is bigger and better in every way, adding new custom combo weapons, multiplayer and thousands of zombies on-screen at once!
Thousands of Zombies On Screen: The undead are everywhere creating a dynamic and challenging zombie-killing experience for the player as weapons will be created to kill massive amounts of zombies at one time!
Combo Weapons: Players can combine two everyday items using duct tape to create the ultimate zombie killing creations such as the Portamower and Paddlesaw. Unlocking combo cards along the way will give players the advantage as the helpful cards will show you what items are best for combining.
New Storyline and Characters: A new protagonist, Chuck Greene, must save his infected daughter, clear his name, and survive 72 hours in Fortune City.
2-Player Co-Op: Online co-op play is introduced to the Dead Rising universe for the first time as players can invite their friends to partner up with them at any time to take on the zombie massacre- tag-team style! Killing zombies with a friend is always more fun!
4-Player Terror is Reality: 4 players compete in a gladiator type TV show named Terror Is Reality that pits zombies against a group of players in the ultimate Vs. multiplayer blood bath




System= Core 2 Duo CPU 2.4 GHz
RAM= 2 GB
Size= 4.01 GB
Video Memory= 256 MB
OS= Windows XP Vista 7 and Windows 8