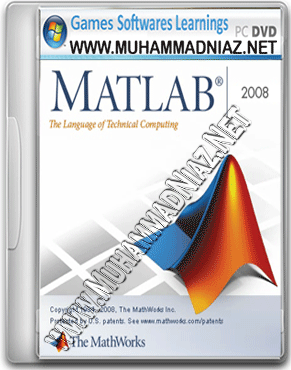 MATLAB 2008 is a language for technical computing that integrates computation, visualization, and programming in an easy to use environment. It can be used in, Math and computation, Algorithm development, Data acquisition, modeling, and simulation. 
It cah aldo be used for data analysis, and visualization, plotting graphs, in scientific and engineering graphics application development, including graphical user interface building.
Here, the variables are generally represented as matrices. It can be used to do any high school math problem. Matrix manipulation, differentiation, integration, and even laplace, inverse laplace transforms and taylor series can be done easiely.
Demos and complete documentation of the functions used in the program are provided with "Help". Demos include source codes and project files. Separate panels for variables and command history are provided.
Matlab mainly focuses on commands, not GUI, although necessary graphical tools are provided for creating simulation models, drawing 2D and 3D graphs, etc.


System= Pentium IV CPU 1.7 GHz
RAM= 512 MB
Size= 3.75 GB
Video Memory= 64 MB
OS= Windows 98 ME 2000 XP Vista 7 and Windows 8
Password= www.muhammadniaz.net
Download Links Here