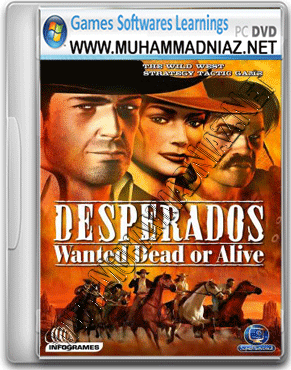 Wanted Dead or Alive looks a lot like the Wild West version of Pyro Studios' Commandos: Behind Enemy Lines, it's a case of where appearances aren't deceiving. Instead of being set in World War II, this character-based real-time strategy game puts you on the old American frontier. You'll gather up a group of desperados to recover money stolen from a railroad, and then you progress through a series of clichéd plot twists centering on dirty dealing, double crossing, and lots of Mexican banditos led by a villain named El Diablo. Familiarity doesn't always breed contempt, though, and the game's atmosphere is engaging and even charming, precisely because it plays so well on our Hollywood vision of the West. Unfortunately, the vivid and inviting setting can't make up for some substantial gameplay flaws. 
In 25 levels with integrated tutorials, you'll lead Cooper and his gang through a variety of story-based adventures. In typical missions, you'll rescue a fellow desperado from a heavily guarded paddle steamer, break into a heavily guarded hacienda, or sneak across a heavily guarded town. In other words, the mission settings are varied, but the same can't always be said about the gameplay.
To beat the missions, you'll need to take advantage of terrain by ambushing the bad guys from rooftops, hiding in tall grass, or crawling below ridges. You can scan the whole map at any time and can check each enemy's field of view independently, even if you can't see him directly. His line of sight shows up as a sweeping green cone, akin to Commandos or Metal Gear Solid. Guards usually act intelligently and will go on a heightened state of alert if you make too much noise or leave dead bodies lying in your wake, so you'll need to consider every action carefully. In a pleasantly realistic touch, even innocent bystanders will get in on the act and shout for help if they spot something fishy.
Wanted Dead or Alive
More than 20 enemies with different profiles, from the lazy and cowardly bandit, to the fearsome mercenary.
A team of 6 characters, each with their own very distinct characteristics, to manage in real time.
25 different levels provide nail-biting intrigue, with cinematic transition scenes and landscapes that will take your breath away. Amazing artificial intelligence!
Each enemy is ranked on 10 different criteria, including intelligence, courage, marksmanship, resistance to alcohol, etc.
An array of different settings: day-time, night-time, storms, dusk, villages, ghost towns, fortresses, gold mines, saloons, prisons, boats 6 training levels to allow the player to really get into the story.


System= Pentium IV CPU 1.7 GHz
RAM= 1 GB
Size= 90.4 MB
Video Memory= 64 MB
OS= Windows 98 ME 2000 XP Vista 7 and Windows 8

for more Free Download visit= www.muhammadniaz.net
Download Links Here