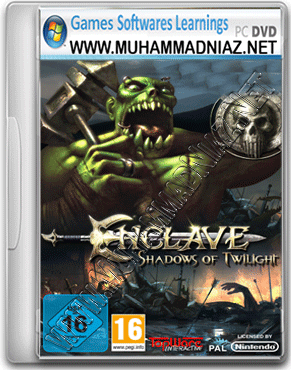 Enclave is a Third Person 3D Action Game. In this game, set in a medieval fantasy realm, players can choose to take on the role of either a "Warrior of Light" or a "Minion of Darkness", complete with separate and unique missions reflecting the nature of that decision.
1,000 years ago, the Dreg'Atar armies of the demon lord known as Vatar had all but destroyed the people of Celenheim. In an act of desperation, the high wizard Zale sundered the land and created a rift around Celenheim, keeping the armies of Vatar at bay. In time, Celenheim forgot the war and forgot Vatar as they went about their daily affairs. Now, the rift is closing, and evil threatens the land once again. An unlikely hero, freed from prison by happenstance, must rise and fight for Light or Darkness, to either destroy the demon king Vatar or kill the queen of Celenheim.
Enclave is a third person hack and slash game. The player uses medieval and magical weapons to fight enemies. At the beginning of each mission, the player chooses a character to control. With the character selected, the player selects weapons and gear to equip for the mission. Gold is required to equip all gear. During each mission, the player collects gold and gems to increase the starting gold available at the start of each mission.


System= Pentium IV CPU 1.5 GHz
RAM= 512 MB
Size= 555.9 MB
Video Memeory= 64 MB
OS= Windows 98 ME 2000 XP Vista 7 and Windows 8
if you face any problem in downloading OR Installation so click on this and watch tutorial
Password= www.muhammadniaz.net
Download Links Here