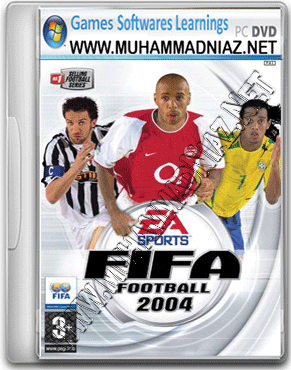 EA FIFA 2004 also known as FIFA Soccer 2004 in North America, is a football video game developed by EA Canada and published by MuhammadNiaz.Net. It was released in October 2003 with the tagline "Muhammad Niaz".
FIFA Football 2004 is the eleventh game in the FIFA series and the eighth to be in 3D. While not adding much to the engine used in FIFA Football 2003, the biggest new inclusions were secondary divisions, which allow the player to take lower ranked teams to promotion attempts. Gameplay has a new feature dubbed "Off the ball", which allows the control of two players at the same time for greater tactical play. Another key feature was Football Fusion, which allows owners of both FIFA 2004 and Total Club Manager 2004 to play games from the management sim in FIFA. The title sequence was filmed in St James' Park, home of Newcastle United, with the opening song being Kings of Leon's European hit "Red Morning Light".
The cover features Alessandro Del Piero of Juventus, Thierry Henry of Arsenal, and Ronaldinho dressed of Brazil.

Groundbreaking Gameplay
FIFA Football 2004 offers a fine-tuned game engine and a new animation engine dramatically enhancing the smoothness in player movement through organic motion.
Off The Ball™ Control
FIFA Football 2004's unique and exclusive Off The Ball™ Control system lets you take command of players not in possession of the ball. Call in tackles, jostle for space, lose your marker and send players on runs at the touch of a button.
Formation Technology
New formation technology now models the behaviour of eleven individuals playing as one team. FIFA Football 2004 now carefully architects the interaction of two teams plus also individual positional awareness, as well as 2, 3 and 4 man sub-units who work together to manage space and create opportunities.
Expanded Database and Controls
Enjoy richer depth to team AI, attributes, tactics, playing styles, and individual player personalities. New depth to control keeps FIFA Football 2004 easy to pick up and play but gives greater depth for the master.
Player Manager
Be your own player manager with FIFA Football 2004's deep Career Mode. Build your team and guide your club to the Championship by making calculated decisions. Manage your team's budget and promote or relegate your players to sustain team objectives on the pitch. When one season ends and another begins new challenges will present themselves. The most successful player managers should also be ready for promotions, as some of the world's top clubs may have new job offers.
In-game Management
You think it's easy being the coach? Prove your tactical genius on the fly. Don't second-guess yourself after the final whistle-make adjustments mid-game and call plays in real time via the d-pad.
Immersive Environments
More than 300 new crowd chants at an ever growing list of officially licensed stadiums help put you in the best seat in the house. From stadiums small and large, no football gaming experience offers a more complete library of the game's authentic environments.
Play With The Best
Now includes 17 leagues, 350 teams and 10,000 players. New additions for 2004 include the Dutch and Portuguese leagues as well as the lower leagues from across Europe's greatest footballing nations.
A Game With No Boundaries
Take on opponents from across the world via EA SPORTS online (PlayStation 2 and PC only). The online lobby area allows gamers gamers to meet, greet, chat and play FIFA Football 2004 head to head.


System= Pentium III CPU 1.0 GHz
RAM= 128 MB
Size= 330 MB
Video Memory= 32 MB
OS= Windows XP Vista Windows 7 & 8

Password= www.muhammadniaz.net
Download Links Here