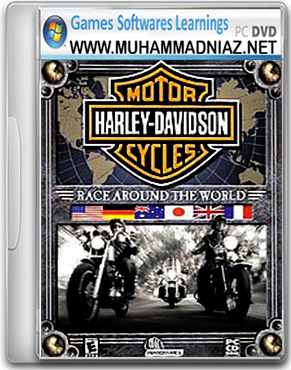 Harley Davidson Race Around The World This racing game is set in six exotic locations from around the world and features a variety of Harley-Davidson motorcycles.
Harley Davidson Race around the World is the third PC game in the Harley-Davidson series, following Harley Davidson: Race Across America and Harley-Davidson: Wheels of Freedom. Rather than focusing on tourist attractions and noted places in America, this iteration takes a virtual tour of Stonehenge, Paris, the Australian outback, and famous ruins.
Drive fully licensed Harley Davidson motorcycles through Stonehenge, the Eiffel Tower, Mt. Fuji, and more
Unlock "boosts" that will power you to the championships
LAN and Internet support.


System= Pentium II CPU 400 MHz
RAM= 128 MB
Size= 40 MB
Video Memory= 32 MB
OS= Windows 98, 2000, NT, XP, Vista, 7 and Windows 8
Password= muhammadniaz.blogspot.com
Download Links Here