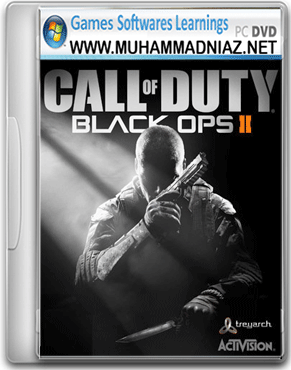 Call of Duty Black Ops 2 is a first person shooter video game, developed by Treyarch and published by Activision. It was released on November 13, 2012 for PlayStation 3, Xbox 360, and PC Microsoft Windows and on November 18, 2012 in North America, November 30, 2012 in Europe and Australia. Square Enix released the game for the Japanese market on November 22, 2012 for a subbed version. Black Ops II is the first game in the Call of Duty franchise to feature future warfare technology and the first to present branching storylines driven by player choice. It also offers a 3D display option. A corresponding game, Call of Duty Black Ops II. Call of Duty: Black Ops II is the sequel to 2010's Black Ops and contains a single player campaign, competitive multiplayer, and zombies mode.
Jetpacks with rigid wings. Gloves that can adhere to any surface and support your body weight. Advertisements that feature your face when you walk by. The campaign in Call of Duty Black Ops II has some interesting ideas about the future of technology, but what about the future of this massively popular shooter series? On the one hand, Black Ops II introduces new mission types and dramatic decision points that liven up the campaign, as well as a league play option that represents a fundamental shift in the franchise's hallowed multiplayer mode. On the other hand, the campaign hits the same satisfying rhythms, the multiplayer captures the same frenetic intensity, and the cooperative zombies mode delivers the same stale undead-massacring action. Caught between striving for the future and remaining rooted in the past, Black Ops II finds solid footing, providing another great ride on the Call of Duty rollercoaster.
Black Ops II also heralds the return of zombies mode. Now in its third incarnation, this cooperative survival mode is still frantic, challenging, and home to some weird humor. But though some of the new missions play with the formula by adding a bus to catch or a competing team to watch out for, the core action has grown stale. Shooting the bullet sponge zombies lacks the satisfying immediacy that Call of Duty thrives on, and dealing with their lurching, single minded attacks grows dull even as they get faster and more numerous. The new maps feature veins of fire that flare up when you cross them and obscure your vision, adding more visual sludge to the already murky environments. Perhaps the fire is intended as some kind of platforming challenge jumping frequently seems to be the best way to avoid it but hopping around doesn't make the environments any less ugly or the enemies any less boring.
Though zombies mode is stagnating, the rest of Black Ops II is lively, and it's great to see some shifting in the familiar structure. Developer Treyarch's storytelling prowess has once again resulted in an engaging, exciting campaign, and the addition of league play to the online multiplayer arena is an intriguing change that could reinvigorate the formula that has endured for so long. By reaching forward while remaining rooted in the things it does so well, Black Ops II offers a great shooter experience.


System= Core 2 Duo CPU 2.4 GHz
RAM= 3 GB
Video Memory= 512 MB
Size= 15.0 GB
OS= Windows Vista Windows 7 Windows 8