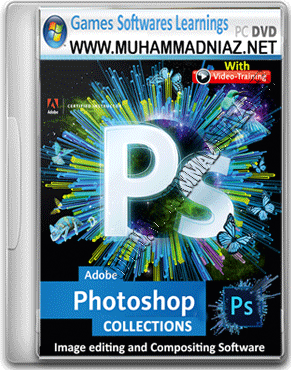 Adobe Photoshop software is the professional image editing standard, helps you work more efficiently, explore new creative options, and produce the highest quality images for print, the Web, and anywhere else. Create exceptional imagery with easier access to file data; streamlined Web design; FASTER, professional-quality photo retouching; and more. Adobe distiller Adobe Photoshop helps you stay competitive with innovative tools that deliver new ways to express your creativity and work efficiently. With Photoshop, you can more easily produce exceptional imagery for print, the Web, wireless devices, and other media. Photoshop rounds out its comprehensive toolset with new capabilities to meet any creative or production demand and to handle the widest variety of image editing tasks in the most efficient way. With enhanced Web features, you can instantly make Web page elements transparent simply by knocking out one or more colors; create dithered transparencies; manage Web page rollovers and animations; and create more sophisticated Web rollovers. Powerful new tools help you explore your creativity without limits so you can more easily meet the Multimedia demands of today's market. Simulate traditional painting techniques (including pastels and charcoal) with dry and wet brush effects and much more.
1. In-app search
Quickly search Photoshop tools, panels, menus, Adobe Stock assets, help content, and tutorials from within the app using a new search panel that's right at your fingertips.
2. Tighter integration with Adobe XD
Now you can copy SVG elements to your clipboard to easily paste Photoshop design assets into Adobe XD.
3. Get started faster
Jumpstart design projects with easy access to presets as well as free Adobe Stock templates that you can access right from File > New.
4. Stock templates, 3D objects, and search
Adobe Stock marketplace now includes design templates and 3D objects, plus you can drag and drop Stock search results from your Library panel right into your canvas and start using them right away. Right-click on a stock image to do a visual search for similar images.
5. Enhanced Properties panel
The Properties panel now displays information about common layer types as well as the document, so it's easier to make precise adjustments.
6. Support for SVG color fonts
Access any SVG font installed on your system from the Photoshop Font menu. Great for responsive design, SVG fonts support multiple colors and gradients, and they can be raster or vector.
7. New Creative Cloud Libraries capabilities
Libraries in Photoshop now support Adobe Stock templates. Plus, Send Link has been updated so you can share read-only access to a public library. When you follow a library, it appears in your Library panel and updates automatically.
8. Creative Cloud Assets improvements
Archive and restore all your assets stored in Creative Cloud, including the ones in your Creative Cloud Libraries, assets created with CC desktop products, and mobile projects.
9. Introducing Typekit Marketplace
Now you can buy fonts from some of the industry's biggest names and use them in your Photoshop projects. Typekit uses its font sync and web technologies to deliver your Marketplace fonts anywhere you need them.
10. Better overall performance
Photoshop now works more efficiently thanks to performance improvements, including a faster Liquify tool.
And so much more
Also includes: The ability to adjust the eyes independently in Face-Aware Liquify, an improved user experience for Match Font, and more.



Photoshop 7
CS
CS2
CS3
CS4
CS5
CS6
CC
CPU= Pentium III or later
Windows= 98, XP or later
RAM= 128 MB (512 MB recommended)
Size= 153 MB
Storage= 320 MB
System= Intel Pentium 4
RAM= 256 MB (512 MB Recommended)
Size= 157 MB
Storage= 280 MB
Video Memory= 64 MB
OS= Windows XP (SP3) Windows Vista (SP2) Windows 7 or Later
System= Intel Pentium 4
RAM= 256 MB (512 MB Recommended)
Size= 152 GB
Storage= 280 MB
Video Memory= 64 MB
OS= Windows XP (SP3) Windows Vista (SP2) Windows 7 or Later
System= Pentium IV CPU 1.4 GHz
RAM= 1 GB
Size= 487 MB
Storage= 1.1 GB
Video Memory= 64 MB
OS= Windows XP Windows Vista Windows 7, 8/8.1 and Windows 10
System= Pentium IV CPU 1.4 GHz
RAM= 512 MB
Size= 68.71 MB
Storage= 1.1 GB
Video Memory= 64 MB
OS= Windows XP Windows Vista Windows 7 or Later
System= Intel Pentium 4 or AMD Athlon 64 processor
RAM= 1 GB (2 GB Recommended)
Size= 980 MB
Storage= 1.1 GB
Video Memory= 64 MB
OS= Windows XP (SP3) Windows Vista (SP2) Windows 7 or Later
System= Intel Pentium 4 or AMD Athlon 64 processor
RAM= 1 GB (2 GB Recommended)
Size= 1.3 GB
Storage= 1.5 GB
Video Memory= 512 MB (1 GB recommended) of VRAM
OS= Windows XP (SP3) Windows Vista (SP2) Windows 7 or Later
System= Intel or AMD processor with 64-bit support (2 GHz)+
RAM= 8 GB
Storage= 2.6 GB
Size= 2.15 GB
Graphics= 2 GB of GPU memory with DirectX 12 support
OS= Windows 7, 8/8.1 and Windows 10 version 1809 or later 

Note: if you Don't know how to Download, Install and Registered Photoshop Version then Click Below and Watch Video Tutorial 
اگرآپ کوایڈوبی فوٹوشاپ کوڈاؤن لوڈ ،انسٹال اوررجسٹررکرنےمیں مسئلہ درپیش ہو تو نیچےدئیے(مطلوبہ ورزن کے) لنک پہ کلیک کریں اورویڈودیکھیں
Adobe Photoshop 7.0 – PS CS2 – PS CS3 – PS CS4 – PS CS5 – PS CS6 – PS CC 2018 – PS 2021

Free Learn Complete Adobe Photoshop in Urdu/Hindi with Video Tutorial


for more Free Download= www.muhammadniaz.net
Download Links Here