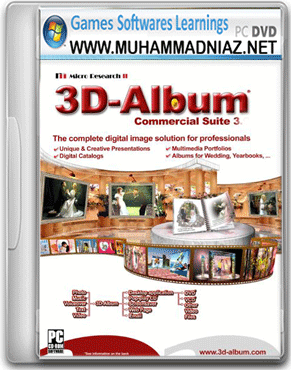 3D Album Commercial Suite 3.3 Complete Digital Imaging Solution for Commercial Production Are you always hunting for an exciting way to publish your multimedia content products, or sell your CD/DVD production for weddings, yearbooks and other special events? The 3D-Album Commercial Suite is our top-notch product in the line that provides you with a license for commercial production of CDs and DVDs. Presentation on CD with encryption and password protection.
Features
Commercial license for creating CD/DVD productions;
Production is free from 3D-Album logos and links;
110+ spectacular Hollywood-style Shows;
Professional multimedia Authoring;
Complete graphic and photo Editor;
Advanced photo Organizer;
Creative photo Printing and Page Design Tool.
Produce DVD & other video files
Easily create Hollywood-style photo showcases from 100+ (for Commercial Suite and PicturePro Platinum, 80+ for PicturePro Standard, and 60+ for PictureEZ) amazing styles for all occasions. Expand your collection with free download. www.muhammadniaz.net Imagine your presentation with a slick animation, magnificent scene and dreamlike environment. There will be tear-filled eyes and joy-packed passion with your added personal touch in your affectionate text, tender voice, and romantic music.
Create applications for pop-and-play CDs without any software installation. Share you albums with your family, friends and colleagues and surprise them with your unique and creative presentations. Make your karaoke album with your own photo collections and favorite MP3 or WMA songs. Create stand-alone desktop programs, screensavers, HTML pages, ZIP files, and self-expandable EXE files. And share your albums for special events via email and the web. Publish your digital catalogs, multimedia portfolios, yearbooks, and many more applications. Create your photo quizzes to test your kids' or friends' savvy. Make stylish and intriguing 3D movie players combined with your photos and music in the background. Advertise your artworks or products via your own screensaver distribution (for Commercial Suite and PicturePro.) One program, endless possibilities…
Content libraries provide a wide variety of choices for the graphics used in the 3D scene. You can make a dramatic change to themes by choosing different backgrounds, wall paper, table cloth, book covers, and decorations. With a seamless integration of the 3D-Album Photo Editor, bringing the background image, shrilling scene,or the book cover into the editor is just one click away.
3D-Album loads unlimited number of photos. Whenever a new photo is loaded, the animation won't stop or slow down. www.muhammadniaz.net Your photo presentation will always give you continuous smooth play even with large jpeg photos from your top-notch digital camera. Most presentation styles in the 3D-Album have unique interaction models: you can set your photo show in the automatic mode, or you can set it to respond to keyboard, mouse, or joystick to manually control the presentation, or walk-through in 3D virtual reality. The new version provides a precise and professional control over timing and animation with more graphics choices, more interactions, and more text options.
The album mixer combines multiple photo presentations (albums) into a single application in which users can select, browse, and play the mixed albums. 3D-Album provides many mixer styles; each creates a unique application for special purposes such as commercial displays, video production, digital catalogs, product browser, and interactive multimedia authoring. New mixer styles are created based on our customers' suggestions. Your 3D-Album can be expanded to include more embedded features.
Choices of loop or stop after the last photo is displayed, options to include or exclude photos in subfolder, and the independent randomness control of photos and music and order. Convenient and efficient management of built albums, screensavers, styles, and downloads. View and re-edit the albums that have been built, view and manage the downloaded albums within the 3D-Album application, as well as the screensavers that have been built. Style organizer to help you to import and arrange new styles in different folders.
NAME

: tici333


SERIAL

: AGPBL-JIAK2-MDDAY-EW3YJ-51VSM
Password= www.muhammadniaz.net