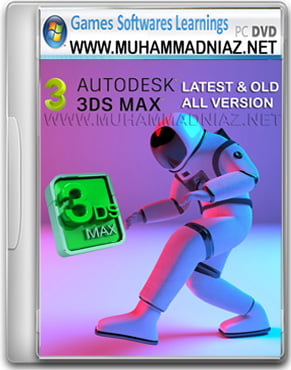 Autodesk 3ds Max – 3D Studio MAX 3d Max Design software provide powerful, integrated 3D modeling, animation, rendering, and compositing tools that enable artists and designers to more quickly ramp up for production. The two versions share core technology and features, but offer differentiated experiences and specialized toolsets for game developers, visual effects artists, and graphic designers on the one hand, and architects, designers, engineers, and visualization specialists on the other.
3D Studio MAX Features
Powerful 3D modeling: Advanced tools for modeling and texturing helps you work faster and more efficiently.
Development of equipment and animation of characters – Integrated set of tools for character animation (CAT) is an advanced system of rigging and animation.
Several built-in rendering module: Artists can create realistic or stylized work with closely integrated into the 3ds Max scan line, and mental ray rendering modules, including an unlimited network rendering mental ray for rendering acceleration.
Enhanced support for manufacturing processes – With support for C + + and. NET application developers can integrate 3ds Max into current manufacturing processes.
Import / export of FBX for Unreal: Creation and animation of models in Autodesk 3ds Max, export files in Autodesk FBX import and Unreal Editor.
Rapid iteration of projects: Thanks to the excellent interaction between 3ds Max Design with the products of families of AutoCAD, Revit and Autodesk Inventor workflow users are not violated when the reverse changes. The product also supports over 30 formats, 2D and 3D data.
The exact calculation of natural lighting: 3ds Max Design – one of the instruments adopted by the CNRC to analyze and calculate the effects of reflected light and natural light.
In addition, direct lighting can be studied in the viewport in real time.
High-quality rendering – Proven technology allows designers and visualization specialists to create cinema-quality images using:
A set of advanced tools for polygon modeling
Built-in animation, character creation and effects
Unlimited network rendering with mental ray.
Description of Subscription Advantage Pack (iRay)
The new package includes advanced development tools industry leaders. As part of additional modules for 3ds Max 2011 offers users a lightweight, independent of screen resolution procedural textures Substance Procedural Textures, dynamics of rigid skeleton with hardware-accelerated PhysX Rigid-Body Dynamics, as well as one of the leading systems, rendering iray renderer, which has high accuracy and physical compactness. This allows us to fully utilize the latest hardware platforms and achieve competitive advantage.
Its library of procedural textures Substance Procedural Textures, which contains about 75 new features, you can achieve almost infinite variety of the external representation of objects. These textures are dynamic and do not depend on screen resolution and take up little space in memory and on disk. That is why they are ideal for export to game engines – for example, by linking technology Algorithmic Substance Air. At the present time can be integrated with game engines like Unreal Engine 3, Emigrant's Gamebryo and Unity. With the help of new tools, you can also "bake" the textures in bitmap images for use in rendering. As examples of dynamically editable and animatable parameters include surface discoloration, and changes in the thickness of mortar in the brick wall, changes in pupil size, eye color and increases the blood vessels in the texture of the eye, as well as dust, bumps, curbs and border markings in the pavement.
For more efficient computation of the dynamics in the workspace Autodesk 3ds Max has been integrated NVIDIA PhysX. Now, directly on the viewport, 3ds Max, you can create even more compelling model of the dynamics of a hard skeleton. Multi-system supports NVIDIA PhysX statics, dynamics and kinematics of rigid bodies (the latter, in particular, the method used to visualize the rag doll), and the types of dependencies Rigid, Slide, Hinge, Twist, Universal, Ball & Socket, and Gear. Thanks to PhysX Rigid-Body Dynamics artists and animators will be able to quickly implement a realistic dynamic visualization, modeling, for example, mountainous landscape with a random arrangement of the rocks. Assign physical properties (friction, density and elasticity) is now not difficult: you just select the desired natural material from a standard kit and, if necessary, adapt it to specific circumstances.
Integrated into 3ds Max iray rendering technology greatly simplifies the process of creating realistic images. Technology iray, which has become another important milestone in the rendering of the revolution, allows computer artists to compose a scene, and only one team to get photo-realistic computer graphics. It seems to work with the camera, "soap box", where all settings are programmed by the manufacturer. Now the artist can concentrate on your creative ideas, intuitively choosing natural materials, lighting, and features to create the most accurate portrait of the physical world, and iray finalizing this portrait, achieving the desired level of detail. While iray works with any standard multi-core processors to speed up the rendering process is recommended to use hardware graphics processor based on the NVIDIA CUDA.

Password= www.muhammadniaz.net
Download Links Here