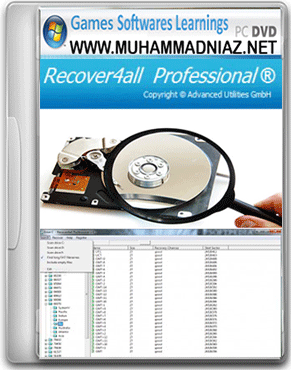 Recover4all Professional is easy to use data recovery software that lets you recover (undelete) files that were accidently deleted under Windows. It does not matter, if the files were removed from the recycle bin or were directly deleted. The program is fast and very easy to use. The deleted files can be restored with a few mouse clicks. www.muhammadniaz.net To prevent deleted files from becoming overwritten, Recover4all does not require installation and can run directly from a USB disk, flash drive Etc… Recover your data with this easy-to-use software.
Does not require installation to protect already deleted files from becoming overwritten!
Simply run the exe.
Does not save to the drive where recovered files were deleted from. This restriction also protects deleted files from becoming overwritten.
Can recover the whole directory structure of a disk.
Recovers files which were directly deleted or deleted through the recycle bin.
Supports all file types including documents, images, movies, music etc.
Can recover from formatted drives and within deleted folders.
Supports NTFS and FAT files systems, all kinds of compressed drives and files, all RAID levels.
Supports filenames in all languages.
Supports drives recognized by Windows with IDE, SATA, USB, SCSI, PCMCIA, FireWire and other interfaces.
Supports internal and external drives, e.g. hard disks, USB drives, memory cards ( like SD, SDHC, CompactFlash (CF), Smart Media, Memory Stick (MS), Multimedia Card (MMC), xD-Picture Card etc.) and others.
Multithreaded on FAT drives: you can browse and recover while the program still searches more deleted files.
for more visit= www.muhammadniaz.net
Download Links Here