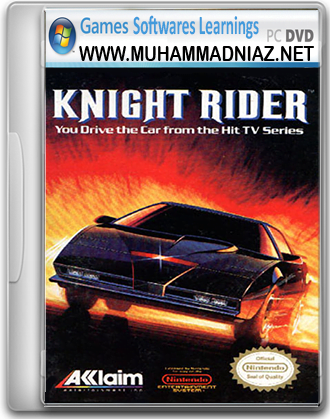 Knight Rider might not seem like the most obvious licensed property to base a game on. When you get right down to it, the original 1980s television show was about a talking, crime-fighting car that could do tricks. The car in question was KITT (the Knight Industries Two Thousand), and it could get up on two wheels, jump over things, and perform other ridiculous feats that were usually specific to the plot of any given episode. And developer Davilex has tried to implement these car tricks in Knight Rider for the PC, making for a strange game that's almost like a cross between a traditional racer and a platform-jumping action game.
The levels are laid out like stunt courses.
Knight Rider has two types of missions: those that require you to race, and those that require you to explore. In this respect, it is similar to SCi's violent car-combat game Carmageddon 3. It is also similar to Carmageddon 3 in that the racing sections are fun, but the exploration sections are tedious. Unfortunately, you often have to do both in any given mission. Knight Rider isn't a bad game–it's just too short and too repetitive. Most missions will require you to chase a helicopter or another car, drive around a compound and scan buildings, or both. The game is full of time limits, requiring you to "Stop that helicopter!" or "Get to the transmission station!" in some short period of time. It's usually not very difficult–in fact, for some reason, the time limits are really only a factor in the training missions. The "hard" difficulty setting makes things a little more challenging, but on the easy or normal settings, you can finish all the game's missions in one or two tries.



System= Pentium III CPU 733 MHz
RAM= 128 MB
Size= 154 MB
Video Memory= 16 MB
OS= Windows 98, XP, Vista, 7 and Windows 8
Password

= muhammadniaz.blogspot.com
Mediafire