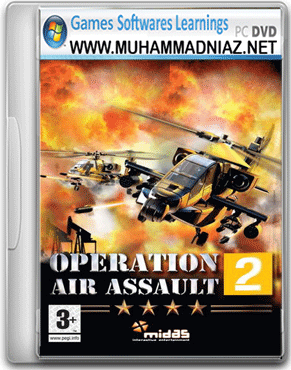 Operation Air Assault 2 The threat from international terrorism has never been greater. Take the war to the terrorists in Operation Air Assault 2.
A radical militia group intent on bringing the world to its knees has started a series of brave and destructive attacks on key military installations. Your mission is to neutralize this threat. To aid you the Air Force has handed over the keys to the most technologically advanced helicopters in their weaponry.
Take to the skies in these hugely impressive hulks of armor plated steel, kitted out with an arsenal of devastating weapons including homing missiles and blind fire rockets. Obliterate ground units and unleash destruction on the unsuspecting enemy.
Use the 'heavy rescue' helicopter to aid the safe pick up of friendly units and take on enemy tanks, gunboats and ground troops across 20 expansive missions in stunning 3D splendor.
Seek out and destroy the enemy in this compelling sequel to the acclaimed Operation Air Assault.
20 captivating missions put players at the heart of a variety of war zones and landscapes
Perfectly modelled helicopters with multiple views give players a realistic insight into
Huge arsenal of modern warfare weapons including homing missiles, rockets and cannons.
Operation Air Assault 2 is an action oriented helicopter simulation that seats you in a high-tech, state of the art, close-range attack helicopter, with all the heavy artillery and means to mutilate that one could ever wish for. Buckle up and embark on high-risk missions in the heart of Siberia or the Pacific islands, as you engage yourself in the war against terrorism – a war that takes no prisoners and knows no end!
Operation Air Assault 2 is the sequel to the succesful www.muhammadniaz.net Operation Air Assault ('Apache AH-64 Air Assault' in USA) and sets out to bring you twice the action and three times the fun! With all new features, such as both friendly and hostile helicopters, startling new graphics and landscapes, and a heavy load of new exciting and more complex missions to complete, 'Operation Air Assault 2' can't go wrong.

System= Pentium III CPU 1.0 GHz
RAM= 256 MB
Size= 22 MB
Video Memory= 32 MB
OS= Windows 98, 2000, ME, XP, Vista, 7 and Windows 8
Password= muhammadniaz.blogspot.com
Download Links Here