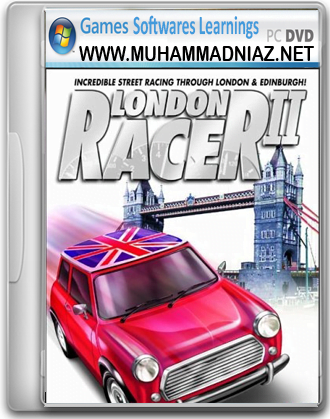 London Racer 2 is the sequel to the game London Racer also known as m25 Racer developed by Davilex. I've got to say that I enjoyed M25 Racer more and I really think London Racer 2 is definitely not the greatest racer arcade I have played. London Racer 2 is an arcade racing game, in which you enter an illegal street race organization as a rookie. This organization sets up illegal races on the m25 and in London and Oxford. In this hierarchic organization you start in the small league, but when you're good enough, they let you enter the "Luxury sports car league" but at the end, you'll be trying to reach the ultimate league: the "GT Racer League". During the leagues, you try to go faster and faster through buying extras and power-ups for your car to tune it up. By finishing higher in the leagues, you'll earn more money with which you can buy even better cars or upgrade your current car. You'll be able to get money and other items like, nitro boosts and -fixing icons-, which naturally fixes your car, by picking them up during the race. The game offers various cars types including bonus cars that can be used only by finishing some levels. It also offers two sorts of gameplay
Graphics
For a start the game graphics aren't too bad, but it is definitely not as great as it could've been. The graphics aren't realistic, which make the game less fun to play. The game's environment lacks quality, and could've been a lot more detailed. But still I have to say that the environment of the courses include a number of items like: coffee tables, street lights, cars, buses, construction cones and more, which add a lot to the race atmosphere. But still, some of those items look shallow and with too little detail, especially the traffic cars. I have to add that I liked the character design, because each of them has their own personality that reflects the car design. You can use three different driving view modes: hood view, bumper view and rear view. I know doesn't matter to some people, but I must say that the game's menu design really lacks in colors, and basically look shallow.
Sound
London racer 2 offers a general race game sounds which includes: great thrilling race music, sounds effects like police sirens, car sounds effects like car engines, tires, brake sounds, crash sound, environment sounds like birds, traffic sound effects and more. Along with the car radio which adds a lot to the gameplay.
The one thing I really liked in London Racer 2 is the sound. When you start to drive you can listen to the radio songs and programs that can really make you laugh. The addition of the radio really makes the game a lot more fun to play. In general the game sound effects quality is average – London Racer 2 doesn't offer outstanding music/sound. But as I said earlier it adds a lot to the atmosphere.
Gameplay
First of all I most say that the control of the car is very unrealistic and not fun to play. The car steering is very hard and tight. The artificial intelligence of the cop cars is not good either, and even has a few bugs. For example I often noticed that the cop car ran into buildings, and sometimes the cops didn't even chase me after I broke traffic rules.
London Racer 2 isn't a realistic game, in regards of physics either. Speaking of which, the sense of gravity is really strange at times. For example, when you accelerate and hit some object, like cars or walls, your car rises into the air like it was a feather, and if you hit a street light it brake right out of its place like a toothpick and flies away.
Multiplayer
As I already mentioned London Racer 2 offers just a local one, including two game modes: the first one is a duel, where you race against your friend in split screen mode. The second mode is "Cop VS Racer", where the cops have to destroy or catch up with the racer in order to win, and the racer has to survive for some time in order to win. The game offers a simple local multiplayer that can be fun for a little while.


System= Pentium II CPU 400 MHz
RAM= 128 MB
Size= 90 MB
Video Memory= 32 MB
OS= Windows 98, 2000, NT, XP, Vista, 7 and Windows 8
Password= www.muhammadniaz.net
Download Links Here