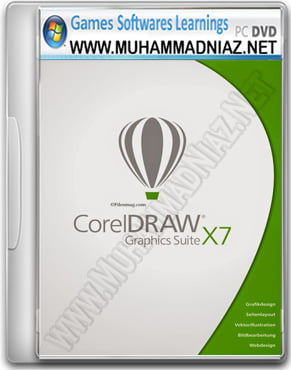 In this video tutorial you can learn how to Free download, Install and Activate/ Registered CorelDRAW Graphics Suite X7 version in Urdu OR Hindi Language. You can also learn about System Requirements Processor, Graphics Card, RAM, Storage, Operating System, WinRAR, Extraction and many more so Watch Learn and must Share with your Friends.
CorelDRAW x7 version fully embraced the digital age, providing access to community-generated and premium cloud-based content. We aimed to lift any restrictions on designers' workflow and creativity, so we redesigned the interface to make it fully customizable and adaptable. Total control over text, colors, advanced fill, and transparency options put the power back in the hands of the users.
Perfectly complementing CorelDRAW, Corel PHOTO-PAINT was given support for the latest PSD files so that designers could work across platforms easily and seamlessly. New to this edition was the ability to select the workspace to recreate Photoshop settings, to help make the transition from Adobe Creative Suite even easier for new users.
With RAW file support for over 300 types of cameras, PHOTO-PAINT was striving to become the go-to photo editing software for professionals and enthusiasts alike.
Another exciting new feature was the Font Playground. An interactive docker window in both CorelDRAW and Corel PHOTO-PAINT X7 that let users preview and experiment with fonts before adding them to the final product. The Font Playground also provided advanced OpenType font features to sample text.
To help speed up the design process even further, we enhanced the pre-existing assets package included in X7. Over 10,000 high-quality clipart images, 2000 photos, and 600 professional templates, along with 1000 fonts, 400 pattern fills, 75 photo frames, and much more.
CorelDRAW X7 Installation


System= Intel Core 2 Duo or AMD Athlon 64
RAM= 2 GB (4 GB Recommended)
Size= 850 MB
Storage= 1 GB
Resolution= 1280 x 720 screen resolution
OS= Windows 7, 8/8.1 & 10 (32-bit or 64-bit editions)

Free Learn CorelDRAW Complete Course in Urdu & Hindi Language