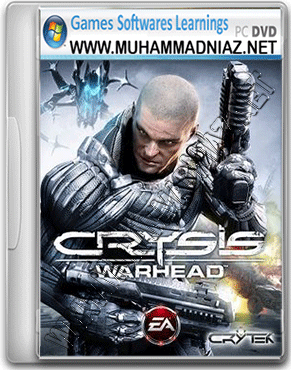 Crysis Warhead is a 1st Person Shooter PC Video Game. Crysis Warhead is a stand alone expansion game and Not Require Crysis game. Crysis Warhead updates and refines the gameplay of the original game through a side-plot parallel to that of the original game. The story follows Sergeant Michael "Psycho" Sykes, an ally of Crysis protagonist Nomad, as he faces his own trials and challenges on the other side of the island during the time period of the first game. It features new fully customizable weapons, vehicles and enemies, along with new multiplayer content. It also showcases a new, enhanced and optimized version of CryEngine 2 and is the first game developed by Crytek's Budapest studio. Psycho's arsenal of futuristic weapons builds on those showcased in Crysis, with the introduction of Mini-SMGs which can be dual-wielded, a six-shot grenade launcher equipped with EMP grenades, and the destructive, short ranged Plasma Accumulator Cannon (PAX). The highly versatile Nanosuit, which confers various superhuman abilities upon its wearer, returns.
Pulse-racing new installment from 2007's PC Game of the Year*: Play as Sergeant Sykes and experience a whole new side of the battle. A standard combat mission behind enemy lines becomes critical when you discover your enemies have captured something of vital importance to the ensuing war. It's down to you to retrieve the cargo, at any cost.
More explosive and dynamic minute to minute game play: new customizable weapons, new vehicles, new photorealistic locations to explore, and a fully interactive war zone to dominate.
Enhanced human and alien AI: Intelligent enemies, bigger challenges, and all-new ally squad support.
Crysis Warhead is a standalone release and does not require ownership of Crysis to play.




System= Pentium IV CPU 2.8 GHz
RAM= 1 GB
Size= 3.71 GB
Video Memory= 256 MB
OS= Windows XP Vista 7 and Windows 8