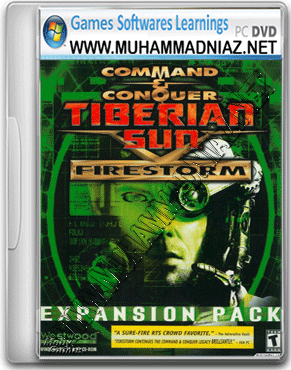 Command & Conquer Tiberian Sun Firestorm is Westwood Studios' expansion pack to Command and Conquer Tiberian Sun. It is also notable as the first game in the franchise where both singleplayer campaigns. Set in the early 21st century, Tiberian Sun once again pits the Global Defense Initiative against the Brotherhood of Nod in a struggle for control of the planet. With an epic storyline that unfolds as play progresses, players learn the reasons behind the worldwide outbreak of Tiberium and what happened to the notorious Nod leader Kane, who was presumed dead at the end of the first Command & Conquer.
KANE IS DEAD. A NEW ENEMY HAS EMERGED.
It's time to head up the Firestorm task force. Nod's experiments have unknowingly released a horde of cybernetic nightmares upon the world. As GDI and Nod scramble to save themselves, they realize their only salvation lies in the unthinkable.
Command & Conquer Tiberian Sun Firestorm INCLUDES
New campaigns for both GDI and Nod
New units
New multiplayer maps
New terrain graphics and Tiberium lifeforms
New music




System= Pentium III CPU 600 MHz
RAM= 18 MB
Size= 208 MB
Video Memory= 32 MB
OS= Windows 98 ME 2000 XP OR Later

for more Free Download= www.muhammadniaz.net
Download Links Here