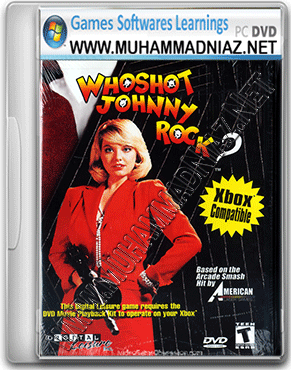 Who Shot Johnny Rock? is the title of a live-action full motion video laserdisc video game produced by American Laser Games. As is the case with other American Laser Games releases, the format is from a first-person perspective of the player watching the full motion video, listening to the various characters and shooting the right enemies at the right time with a powerful Tommy gun. Most other games produced by the company – with minor exceptions such as The Last Bounty Hunter, where the player can use a shotgun for a limited amount of time – feature no more than a simple pistol, which must be used to eliminate successive foes. Also, the player narrates the story.
Unlike previous games, such as Mad Dog McCree and Crime Patrol, the player's Tommy gun does not need to be reloaded, but one does need to buy extra ammunition. Also, when health is lost, the player needs to have enough money to be able to pay the city doctor to give him or her an extra life. If money runs out, the game is over. The player must also try to avoid hitting innocent bystanders, as doing so results in having to pay funeral expenses. The doctor also gives advice (usually fake) and criticizes the player's actions.
Along the way, clues have to be collected and it is them that will eventually allow the player to determine Johnny Rock's murderer; one of the final sequences takes place in Rock's mansion, where a final clue will point to the killer, who must be eliminated to end the game.


System= Pentium III CPU 733 MHz
RAM= 256 MB
Size= 524 MB
Video Memeory= 32 MB
OS= Windows 98 ME 2000 XP Vista 7 and Windows 8
if you face any problem in downloading OR Installation so click on this and watch tutorial
Password= www.muhammadniaz.net
Download Links Here