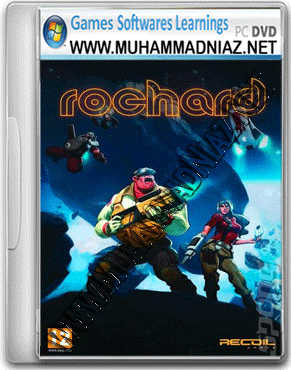 Rochard is a science fiction platform Game. game revolves around the manipulation of gravity and the use of a G-Lifter, a gravity device used to easily move heavy objects around. The title combines increasingly challenging environmental puzzles with action, humor and a story rich of twists.
Rochard is a two-dimensional side-scrolling platformer taking place in three-dimensional scenes. The player character works his way through a series of environments, each containing a mix of puzzle and combat encounters. To overcome these challenges, the player has access to several tools and mechanics that relate to gravity, weight and matter properties.
Players can change the gravity between "normal" earth like gravity and low gravity by holding the L1/LB/Shift button. Controlling the gravity is the key feature of the game and allows the player for example to jump higher in low gravity, alter trajectories of thrown objects, soar in the air flow of a huge ventilation fan in low gravity, do a Recoil Jump, Lift heavy objects in low G, swing on certain objects using the Gravity Beam. Some levels have sections where the gravity is inverted. In some levels the player can invert the gravity by himself.
The player is equipped with the G-Lifter – a modular mining tool hosting various subsystems like remote gravity controller, flashlight, a communication device and the following main features. When the gravity beam mode is selected it allows John to grab and shoot or drop certain objects like crates, explosives containers etc. With the gravity beam John can also manipulate and move certain objects, like big mining lasers, cargo containers etc. After an upgrade the G-Beam is powerful enough to lift John in low G allowing him to dangle and swing from certain objects. All objects which can be manipulated with the gravity beam are highlighted with a white swipe effect on the surface. The player gets to upgrade the gravity beam several times to gain new abilities to it. In addition to the G-Swing the player can use the G-Beam as a weapon against flying droids, automated turrets and even human enemies (respectively).
Force fields block certain objects. There are four types of force fields: Bio force field (red, blocks human characters); Matter force field (blue, blocks inanimate objects); Energy force field (orange, blocks weapon fire and explosions); Omni force field (white, blocks everything).
Fuses are used to control power on certain electrically powered items. The controlled item is attached to a fuse socket with a thick visible cable. The player can control the power on the item by attaching or detaching the fuse to/from the socket. The fuses cannot be physically damaged but they can be disabled temporarily by shooting or using explosives at them.


System= Pentium IV CPU 1.8 GHz
RAM= 512 MB
Size= 657.9 MB
Video Memeory= 96 MB
OS= Windows 98 ME 2000 XP Vista 7 and Windows 8
if you face any problem in downloading OR Installation so click on this and watch tutorial
Password= www.muhammadniaz.net
Download Links Here