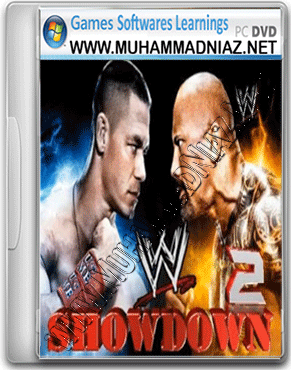 WWE Showdown 2 is one of the most popular game in playstation world. But its popularity is not restricted till playstation but on other hand it's demand pull it to Pc world too. There are all the famous WWE super stars in this game. This game also includes some interesting feature such as Season Mode, Exhibition Mode, Online Game play, Roster and Create Mode.
Season Mode:
In this mode the player should chose one Super Star and he/she has to pass the given challenges within game.
Exhibition Mode:
In Exhibition Mode you can randomly chose the Super Star to with you want to play and also decide your opponent. You can also play six-man match or tag team. This mode of game is quite flexible.
Online Play:
You can also play online WWE Smackdown vs Raw 2007. You can play it on LAN by connecting your friend or WAN wide area network if you internet speed is quite good.
Roster:
Roster Mode includes in every WWE Smackdown games, this is about the Super Star who compete for WWE.
Create Mode:
In this mode you can customize you Super Star. You can customize your Super Star Power, Stamina, Muscle, Strength and including other looks and behaviour.
WWE Showdown 2 Players List

123 Kid 8-Ball (DOA) A-Train Mike Adamle Gen. Adnon Adrian Adonis Afa (Wild Somoans) AJ Lee Akeem Akio Aksana Lou lbano Albert Dean Ambrose Mr. America Eric Angle  Kurt Angle Animal Arn Anderson Andre the Giant Antonio Vance Archer Ted Arcidi Scott Armstrong Ashley Tony Atlas Stone Cold Steve Austin Avitar Mike Awesome [bio] Ax (Demolition) Curtis Axel B B Babu Bob Backlund BarbariaWade Barrett Danny Basham Doug Basham Nicole Bass Outlaw Ron Bass(Deacon) Batista Paul Bearer Brutus Beefcake Brie Bella Nikki Bella Shelton Benjamin Chris Benoit [bio] Trent Barreta Berzerker Beau Beverly Blake Beverly Bam Bam Bigelow Alundra Blayze The Blue Blazer The Blue Meanie Big Boss Man [bio]The Big Valboski Eric Bischoff Steve Blackman B. Brian Blair Tully Blanchard Eli Blue Jacob Blue Blue Meanie Adam Bomb Bastian BoogerBoogeymanBooker T [bio] Ludvig Borga Evan Bourne Matt Bourne Brakus Ryan Braddock Bradshaw Blackjack BradshawJustin "Hawk" BradshawTom Brandi Brooklyn Brawler Dino Bravo Gerald Briscoe Jack Briscoe Bad News Brown D-Low Brown [bio] Jim Brunzel Daniel BryanBull Buchanan King Kong Bundy KatieLea BurchillPaul Burchill Big Bully Busick Butch (Bushwhacher) Cactus Jack Garrison CadeLance CadeHaystack Calhoon Camacho Cameron Candice Mark Cantebury Carmella Leif  Cassidy Carlito (Caribbean Cool) John Cena [bio] Chains (DOA) Chainsaw Charlie Cherry Anthony Chimmel Mike Chioda Too Sexy Brian Christopher Christian [bio] Christy (Hemme) Chuck Papi Chulo
Chyna Antonio Cesaro Brodus Clay Beaver Cleavage Jonathon Coachman Michael Cole Zeb Colter Primo (Colon) John Cone The Conquistador Rob Conway Justin Credible [bio] Crush Caylen Croft Johnny Curtis  Reverend D-Von Khosrow Daivari Bo Dallas Dawn Marie Tony Dawson Danny Davis  Simon DeanDebra Jimmy Delray Damian Demento Bill DeMott Deuce The Million Dollar Man Ted DiBiase Ted DiBiase (Jr) Diesel Fake Diesel Jack Doan Dean Douglas [bio] Shane Douglas [bio] Doink Domino Duke "The Dumpster" Droese René Duprée "Puke" Darren Drozdov Dude Love [bio] Buh Buh Ray Dudley D-Von Dudley Spike Dudley Hacksaw Jim Duggan Steven Dunn Kenny Dykstra Dynamite Kid (British Bulldogs) Earthquake Edge [bio] El Matador Tito Santana  Miss Elizabeth Uncle Elmer Epico Texas Tornado Terry Von Eric  Armando Alejandro EstradaEugene Eve The Executioner Faarooq (Asaad)  Fandango Julio Fantastico Fatu (Headshrinker) Rikishi Fatu Fi Fi Etc….


System= Pentium IV CPU 1.4 GHz
RAM= 256 MB
Size= 622 MB
Video Memory= 32 MB
OS= Windows 98 2000 XP Vista 7 and Windows 8

Password= www.muhammadniaz.net
Download Links Here