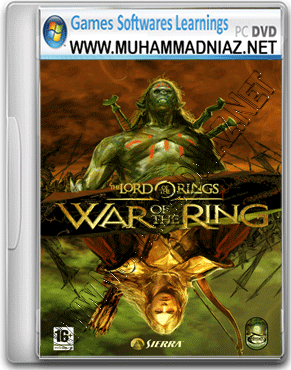 The Lord of the Rings: War of the Ring is a 2003 real-time strategy game (RTS) developed by Liquid Entertainment, the makers of the previous Battle Realms and its expansion, Winter of the Wolf, and published by Sierra Entertainment. Set in J. R. R. Tolkien's fictional Middle-earth, it expands upon the events of the War of the Ring as told in his fantasy novel, The Lord of the Rings.
Unlike the later RTS The Lord of the Rings: The Battle for Middle-earth by Electronic Arts, War of the Ring is unrelated to the films by Peter Jackson. The game is officially licensed by Tolkien Enterprises, as are other book-based (as opposed to film-based) Tolkien games such as The Fellowship of the Ring and The Hobbit (2003).
The game plays much like Warcraft III with added features, some previously used in Battle Realms. A similar layout and control system is used, and the player gets to control hero units with special abilities. Most regular units also have abilities of their own. The game also follows certain RTS conventions such as having rally points and controlling unit creation and purchase of upgrades at designated buildings.
The game features a Good and an Evil campaign, in which one fights the War of the Ring from opposing sides. The game does not actually dwell on prominent battles such as the Battle of the Pelennor Fields (except for the Battle of the Hornburg, featured in the Good campaign) but rather presents scenarios based upon Tolkien's writings (with varying degrees of license taken). For example, the Good campaign starts with Gimli and the Dwarves fighting the Orcs in the Iron Hills, and one Evil mission has Grishnákh destroying the Beacons of Gondor. A more faithful scenario is the defense of Osgiliath with Boromir and Faramir.


System= Pentium III CPU 1.0 GHz
RAM= 196 MB
Size= 256 MB
Video Memory= 32 MB
OS= Windows 98 ME 2000 XP Vista 7 and Windows 8

for more free download= www.muhammadniaz.net
Download Links Here