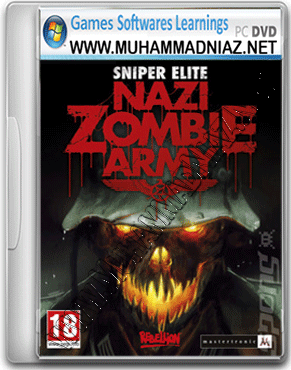 Sniper Elite – Nazi Zombie Army 1: Featuring a co-op campaign for 1 to 4 players, Nazi Zombie Army is a horrifying new stand-alone expansion of the award-winning Sniper Elite series. In the dying flames of World War II, a despairing Hitler unleashes one final, unholy gamble a legion of undead super soldiers that threatens to overwhelm the whole of Europe You are Karl Fairburne – the sniper who shaped world history. You are one of the last living souls in Germany. You must team up or die American, German, Russian – previous military allegiances no longer matter. Now it's just the living versus the dead Only a Sniper Elite with nerves of steel and a steady aim stands a chance against Hitler's Nazi Zombie Army.
Sniper Elite Nazi Zombie Army 1 Features
Battle through blood-drenched levels in a Berlin overrun by Hitler's supernatural forces.

Adapt to harrowing new enemies – occult commanders, roof-jumping snipers, undead suicide infantry and worse.

Test your sniping skills under extreme pressure, keep your cool, and keep a boomstick handy – just in case.

For the first time in Sniper Elite history, battle your way through a campaign built for up to four players.

Fight back-to-back with a German officer, a scientist and a Russian soldier.

Work together or face annihilation – plan your positions, set your traps and make your stand.

See every putrid lung burst, every rotten bone shatter with the return of Sniper Elite's acclaimed X-Ray 'kill cam.

Experience the genre-best sniping ballistics and precise controls that made the series a best-seller.

Take into account gravity, wind, velocity, stability and more under the pressure of the zombie onslaught. You don't want to miss.





System= Dual Core CPU 1.8 GHz
RAM= 2 GB
Size= 1 GB
Video Memory= 256 MB
OS= Windows Vista (SP2) 7 and Windows 8/8.1

For more Free Download= www.muhammadniaz.net
Download Links Here