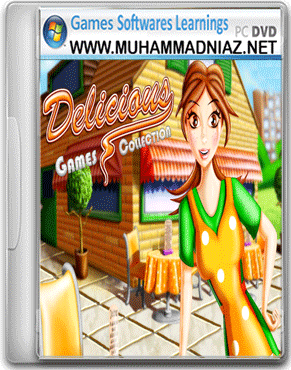 Delicious Deluxe: Roll up your sleeves for fast fun in this tantalizing restaurant challenge. Join Emily on her quest to make her dreams come true in two game modes and seven different restaurants. Success means more tables, bigger restaurants, and a menu full of uniquely delectable items. Tasty treats may keep your customers happy, but it's going to take quick clicks and careful timing to get Emily's ambitions off the ground.
Delicious Emily's Tea Garden: Join Emily for more fast-paced fun in Delicious – Emily's Tea Garden. After rescuing her family business, Emily has big plans to open her own Tea Garden. But, in order to make her dreams come true, she's going to have to earn enough money to pay her construction loans by helping other restaurateurs. Help Emily cater to a wide variety of customers in a number of different locations including a BBQ Grill, Beach Club, and Fine Restaurant. Hire entertainers, decorate each restaurant, and keep up with reservations in two thrilling game modes. More frenzied and more fun than ever, Delicious – Emily's Tea Garden is a vivid treat for the whole family.
Delicious Emily's Childhood Memories: Rekindle the magic of growing up with Delicious – Emily's Childhood Memories, a wonderful new addition to the timeless Delicious series from the makers of Delicious – Emily's Taste of Fame and Heart's Medicine. Emily is headed home. Home to where she grew up. Home to where many of her most treasured childhood recollections were born. Her parents are close to selling the farm and about to move out, allowing her one final glimpse of how things used to be. Follow Emily on this touching journey through the 1970's and onward, and reminisce heartwarming episodes of her life as she grew up. Meet childhood friends, play wonderful games, and get out of troubling predicaments in all-new levels of fun. With exhilarating tasks, captivating circumstances, rewarding trophies, and fabulous upgrades, Delicious – Emily's Childhood Memories is certain to find a place in your heart.



System= Pentium III CPU 1.0 GHz
RAM= 256 MB
Size= 
Video Memory=
OS= Windows 98 ME 2000 XP Vista 7 and Windows 8
if you face any problem in downloading OR Installation so click on this and watch tutorial