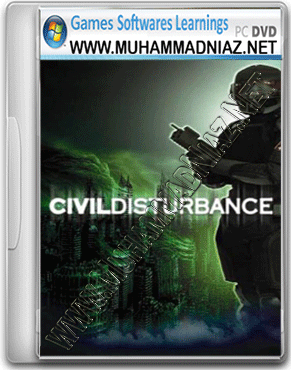 Civil Disturbance is based in a future America where the government oppress the population, so the people fight back against the government. Civil Disturbance transports you to a future where America's fate s uncertain. Fallen under the rule of a power mad politician and usurped into a global government those still faithful to the "true America" have rebelled and now civil war rings out all across North America. You begin your journey in Canyon City, the first bastion of hope for the Militia rebels, where the first blow was struck by the newly formed World United Military Force.
Features:
* Fight the war using over a dozen weapons, all with upgrades and attachments available as you progress

* Communicate with computer controlled allies to coordinate strikes on your enemies

* Advance your character through the ranks, giving you access to new weaponry, vehicles and more.

* Engage the enemy in various battlefields, ranging from major cities, to open fields, to large military structures.


System= Pentium IV CPU 1.4 GHz
RAM= 512 MB
Size= 143.12 MB
Video Memory= 96
OS= Windows XP Vista 7 and Windows 8

Password= www.muhammadniaz.net
Download Links Here