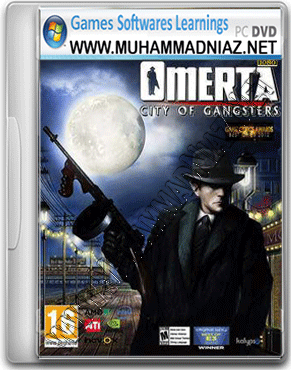 Omerta City of Gangsters is a simulation game with turn-based tactical game-play elements developed by Haemimont Games and published by Kalypso Media for Microsoft Windows, Mac OS X and the Xbox 360.
Arriving at Atlantic City, Boss D'Angelo begins his foothold on the criminal empire as he makes money off the prohibition and gambling trade. Sending money back to his brother, he keeps his secret of being a mob boss hidden to his brother as he works for Louie, a Capo under the eye of Danny Corsini the leader of the Mafia in Atlantic City. His enemies includes independent gangsters to the Ku Klux Klan, who are at bitter odds with the growing immigration problem. Eventually tired of working for Louie, he was sent to take care one last job which was revealed to be a trap as Danny Corsini was the intended target, Boss thwarts the assassination and becomes a Capo under Corsini.
Expanding his criminal empire eventually allows his brother to come to Atlantic City but not as a brother in crime but working as a FBI Agent at New York, Boss' attempts to set up a source of income through the gambling/nightclub trade had drawn suspicion to the Boss. Danny Corsini then attempts to defend Boss by attempting to kill his brother and the Boss was forced to take the fight against Corsini which winds up with the Boss being triumphant. It was also revealed that the KKK had an influence on the gang tensions and partially responsible for the Prohibition and the Boss decides to take the fight to the law. He earns money through real estate and by supporting Mr. Smith, upon reaching Michigan Ave his brother offers on last chance for the Boss to come clean, the Boss rejects the idea of selling his men out but also relents on killing his brother. The Boss came out clean and triumphant and made amends with his brother and owns a private island which he calls Nova Sicilia and his brother left the agency to pursue his dream of being a shipwright and vowed to never speak of their days in the prohibition again.
In the beginning just small hole-and-corner dealings, with time the players character edges up his business in the hierarchy of criminality advancing highly enough to establish his own little business. The player can expand its business more and more by purchasing untenanted shops, buildings and structures to establish his own bar, brewery or distillery or even buy out an opposing speakeasy. More legal ways for generating income are buying apartments to obtain leasing. In the end it's intended to acquire warehouses to extend storage.
As the game progress the character can recruit his own companions and manifests thereby his own little gang and with this help conquer other territories of other gangster bosses tightening its own Mafia syndicate. Those characters provide specific role-playing elements as they handle, based on their individual characteristics, the different load-outs they can be equipped with. In turn-based confrontations with other combatants the player can expand his influence using his henchmen to push other godfathers bit by bit out of business to become the unchallenged patron of Atlantic City to reign supreme in the end.
In addition to both co-operative and competitive multiplayer game-play, it offers a sandbox mode to explore the game world, roam and expand freely on four different maps covering districts of Atlantic City to play an endless game.


System= Core 2 Duo CPU 1.0 GHz
RAM= 1 GB
Size= 798.3 MB
Video Memeory= 256 MB
OS= Windows XP Windows Vista Windows 7 and Windows 8
if you face any problem in downloading OR Installation so click on this and watch tutorial
Password= www.muhammadniaz.net
Download Links Here