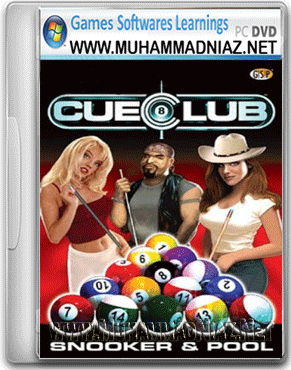 Cue Club the Ultimate Pool and Snooker game for PC! Whether you want to play 8-ball, 9-ball, Snooker, or just hone your skills at the table, Cue Club by Bulldog Interactive has something for everyone. Featuring 8 uniquely themed Virtual Chat Rooms, players can hook up with hundreds of opponents in a quest to win matches, improve their ranking and take on each of the 8 Bosses! With beautifully rendered balls and a highly accurate Newtonian physics engine, Cue Club simulates the game in amazing detail and allows you to perform some incredible shots. Try it out for yourself.
Languages: English, German, Dutch, French, Spanish, Italian, Portuguese, Polish.
Game Features

8-ball, 9-ball, speedball, killer and snooker games.

1 player, 2 player, tournament, practice and 'slam' modes.

8 individually themed Virtual Chat Rooms.

Fully customisable tables, baizes, ballsets, cues and rules.

Accurate Newtonian physics engine allows incredible shots.

Smart computer opponents play like humans – and chat too!

CD version contains 9 superb club-style audio tracks.
Cue Club Cheats
Enter any Cue Club chat room and type these fun cheats into the dialogue box.
Re-enter the cheat to turn it off. Note, these will not work with the trial version.
ccc>gravity (makes like balls repel, and unlike balls attract)
ccc>marbles (gives balls a glassy appearance)
ccc>bangs (exploding balls)
ccc>sfx (wacky sound effects)
ccc>standard (gives standard access to all chat rooms)
ccc>gold (gives gold access to all chat rooms)



System= Pentium III CPU 733 MHz
RAM= 128 MB
Size= 149 MB
Video Memory= 32 MB
OS= Windows 98 ME 2000 XP Vista 7 and Windows 8
For more Free Download= www.muhammadniaz.net
Download Links Here