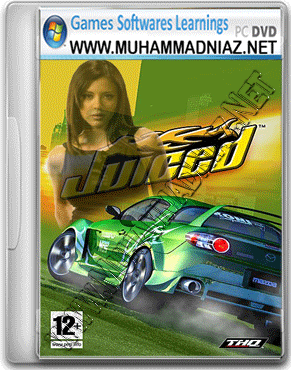 Juiced is a racing video game for Microsoft Windows, PlayStation 2, Xbox, and mobile phone. The game was delayed for release in 2004 because its original publisher, Acclaim, went bankrupt. The game was picked up by THQ, and further delayed as changes were made to it.
In early 2006, British software publisher Focus Multimedia re-released the PC version of Juiced at a new budget price as part of its "Essential" games range.
The game offers different modes including career and arcade that present the player with challenges of increasing difficulty. A player can customize the car to suit their style and unlock new ones in arcade mode. The game features nitrous, similar to that of other racing games. This can be particularly useful when the player is behind an opponent or behind time; the AI can use nitrous oxide as well.
The game system was inspired by Need for Speed: Underground (which is inspired by the Shutokō Battle series),[citation needed] but the racing styles are realistic, similar to PlayStation's Gran Turismo. Damage is distinctively visible in Juiced, and must be repaired before the player can tune up the car.


System= Pentium III 1.0 GHz
RAM= 256 MB
Video Memory= 32 MB
Size= 277 MB
OS= Windows XP Windows Vista Windows 7 and Windows 8

1. Download and Extract with WinRAR
2. click on install_juiced.bat
3. wait few minutes
4. after installation open Juiced folder
5. and click on juiced.exe file
6. and configure your setting and click ok and wait few seconds
7. and play game and ENJOY:-)
NOTE: after configure setting your game not start and give u an error that
Juiced reuired virtual memory enabled so do this
1. right click on juiced.exe and click on property
2. click on compatibility box
3. then click on compatibility mode
4. so if u installed window xp so set xp sp2 or sp3
5. if u installed vista or 7 so set vista or 7
6. and click ok botton
7. and reclick juiced.exe file
8. now it will be run on your window smoothly like a butter
Password= www.muhammadniaz.net
Download Links Here