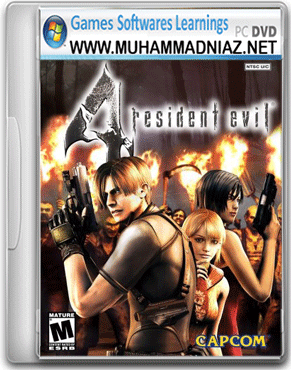 Resident Evil 4 takes you on a secret mission at a mysterious location in Europe, where you will fight not zombies in an attempt to recover the President's daughter. Resident Evil 4 is strong gameplay somehow manages to survive, despite a lazy porting job that will leave some PC owners wondering what all the fuss was about.
Resident Evil 4
In 2005, Resident Evil 4 on the Nintendo GameCube was rightfully lauded as one of the best action adventure games ever released, thanks to stunning visuals and white-knuckle action sequences that ranked amongst the best in gaming. Later that year, PlayStation 2 owners were blessed with their own version of the game, featuring more missions and some other unlockable goodies. And now you can play Resident Evil 4 on your PC for a mere $20. It's too bad that PC gamers have been inflicted with a lazy port that does as little as possible to cater to the platform. Forget mouse support, forget tailoring the visuals to your own preferences, and don't even think about any PC only goodies: this is a direct transfer of the PlayStation 2 version. If you can get past all these problems, RE4 is still an intense, thrilling ride that will keep your heart pounding. But if you still haven't played Resident Evil 4, this version should be your last resort.
The biggest oversight amongst all these porting issues is that of controls. Resident Evil 4 doesn't support mouse controls, though it does offer a mildly clumsy keyboard-only scheme. Plenty of console-centric games play better with a gamepad, but there wasn't even an attempt to implement decent PC controls here. To experience the game the way it's meant to be played, you need to plug in a gamepad. Whichever method you choose, the controls present an issue during the famous context sensitive moments that require a few split-second button presses. If you end up using the keyboard controls, make sure to memorize which key is button 1, which key is button 2, and so on. The same issue exists with a controller, though it's a bit easier to get the button presses right because the in-game diagrams are tailored toward gamepad users.
The fundamental combat is where the game shines most. Your arsenal consists of pistols, shotguns, rifles and more, with every weapon producing credible results. Popping pitchfork-wielding villagers will cause them to drop their weapons. Or you can shoot them in the knees to make them momentarily fall to the ground. Because ammunition is not terribly plentiful, being able to handle a crowd of shambling psychopaths with as few shots as possible is a main priority. You've always got a knife as a last resort, but unless you want to take a chunk of damage, it's better to keep your distance.



System= Intel Core 2 Duo/Quad 2.7 Ghz or better, AMD Phenom II X4 3 Ghz or better
RAM= 4 GB
Graphics= NVIDIA GeForce GTX 560 or better
Size= 3.09 GB
OS= Windows XP 7 8/8.1 10 Windows 11
for more FREE Visit= www.muhammadniaz.net