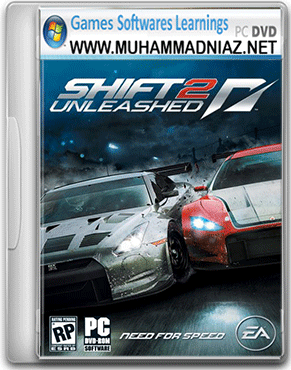 Need for Speed Shift 2 Unleashed combines violence and excitement in this racing experience. It expands the Shift franchise by adding new features and modes including Driver's Battle mode, the helmet cam, and night racing to emulate the driver's experience to life. Need for Speed Shift 2 may not offer full-on simulation features, but it boasts roller-coaster thrills and a deep sense of immersion in the hectic world of racing. The sequel to the critically acclaimed Need for Speed SHIFT returns to the track to deliver the most physical racing experience with SHIFT 2 UNLEASHED. Feel what the Driver's Battle is actually like in an unparalleled racing experience that captures the physicality and brutality of being behind the wheel going 200mph.
FEEL THE DRIVER'S BATTLE, Frighteningly authentic physics and degradation of tracks and cars, thrilling night racing, and an eye watering sense of speed combined with the helmet camera puts you right in the heart in the action. Feel every scrape, bump, and burn out in an all-out fight to the finish line.
TRACK, SHARE & COMPARE, Take your game play further than ever before with the revolutionary Autolog system that lets you connect and share virtually every aspect of your racing career status, pictures, videos and more online with your friends. Get new challenges based on your friends' in-game activity and amp up the competition both offline and online.
THE MOST ELITE HIGH PERFORMANCE VEHICLES IN THE WORLD, Buckle up in an impressive selection of the hottest and most elite high-performance vehicles in the world. SHIFT 2 UNLEASHED delivers not only the biggest car list ever in a Need for Speed game, but also the most immersive racing experience to date with extensive performance and visual customization.
WORLD'S MOST ICONIC TRACKS, Tear into some of the world's most iconic and challenging tracks, as well as some beautiful fictitious courses, in both grueling day and terrifying night races. Leave your mark on these tracks as they actually degrade and show the race scarred look of being at the mercy of the Driver's Battle.
Need for Speed Shift 2 Unleashed www.muhammadniaz.net is a highly challenging and exciting racing game which improves greatly on its predecessor. New features, such as the first-person helmet cam and the reworked graphics engine, make the driving seat a more thrilling place to be than it was in the first game. However, the car handling continues to tread the line between arcade and simulation, without mastering either. While Shift 2 turns the corner from full simulation, a compelling single player Career mode, great online features and new Autolog integration make it an exciting and well rounded package overall.



System= Intel Core 2 Duo 2.0 GHz
RAM= 2GB
Video Memory= 512MB
Size= 5.37 GB
OS= Windows XP (SP3), Vista, 7, 8/8.1 and Windows 10
Password= www.muhammadniaz.net
Download 5 Parts and Extract Part 1 with WinRAR 5
Download Links Here