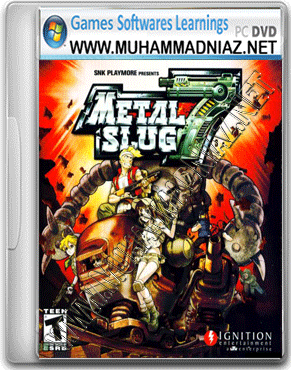 Metal Slug 7  is a run and gun video game developed by SNK Playmore for the Nintendo DS. It is the eighth title in the main Metal Slug series. It was announced in the September 2007 issue of Famitsu and marks the first game in the main series that will be released without an arcade version. The game was released in Japan on July 22, 2008 and North America on November 28, 2008 by Ignition Entertainment.
A revised version of the game, titled Metal Slug XX, was released on December 23, 2009 in Japan and North America on February 23, 2010 by Atlus for the PlayStation Portable. This version of the game features additional content, including co-op multiplayer and downloadable content. Metal Slug XX was also released on Xbox Live Arcade on May 19, 2010.
There are seven levels and three difficulties: Beginner, Normal and Hard. Metal Slug 7 uses the Nintendo DS touchscreen as a map of the level, making it easier for the player to look at the level and where to get power ups or captured prisoners. The usual weapons make their return from the series including a new weapon called "Thunder Shot", which fires a homing electric blast to the enemy. New to Metal Slug XX is downloadable content which includes the addition of Leona Heidern from The King of Fighters series as a playable character.



System= Pentium III 1.o GHz
RAM= 256 MB
Size= 40.32 MB
Video Memory= 32 MB
OS= Windows 98 ME 2000 XP Vista 7 and Windows 8
if you face any problem in downloading OR Installation so click on this link and watch tutorial
Password= www.muhammadniaz.net
Download Links Here