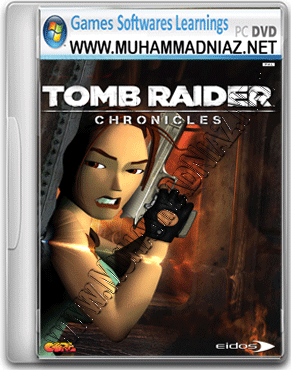 Tomb Raider Chronicles is the fifth video game in the Tomb Raider series and the sequel to Tomb Raider: The Last Revelation. It was developed by Core Design and published by Eidos Interactive. The game was originally released in 2000 for PlayStation, Dreamcast, Microsoft Windows and Mac OS. It was also released on the PAL PlayStation Store on 12 January 2011.
The gameplay of Tomb Raider Chronicles is closely tied to that of Tomb Raider: The Last Revelation. In terms of movement and animation, the new additions to Lara's skills are the ability to walk on a tightrope, the ability to grab and swing on horizontal bars and the ability to somersault forwards from a ledge while crouching. Focusing on Lara herself, little to no improvement has been made from the previous instalment. However, Lara does sport new clothing and gear in the form of a camouflage snow-suit and a black catsuit suitable for infiltration.
Several weapons from Tomb Raider: The Last Revelation have not returned (namely the Crossbow and the Grenade Launcher), but the MP5 submachine gun and Desert Eagle from Tomb Raider III and the revolver from The Last Revelation have returned. New equipment consists of a TMX-Timex that Lara uses to track her statistics and grappling gun, which fires a grappling hook into perishable surfaces and produces a rope from which Lara can swing. It is used to latch on certain areas of the ceiling and swing across vaults. Only one vehicle (of sorts) appears: a high-tech diving suit designed to penetrate deep waters. The ability to save wherever one desires returns from The Last Revelation as does the combining system of puzzle items used to progress in the level. Lara also uses a crowbar and a torch to progress through the virtual world.
Secrets in Tomb Raider Chronicles are represented by a golden rose (much like the dragons in Tomb Raider II). In total there are 36 scattered throughout the game and when the player has found every one of them, a new special features menu is unlocked from the Options screen.



System= Pentium III CPU 1.0 GHz
RAM= 128 MB
Size= 137 MB
Video Memory= 32 MB
OS= Windows 98 ME 2000 XP Vista 7 and Windows 8
Password= www.muhammadniaz.net
Download Links Here