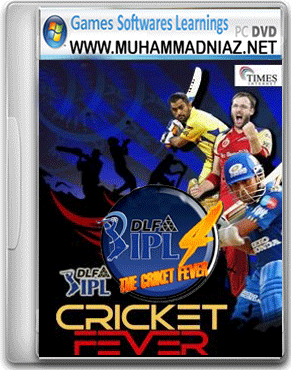 DLF IPL 4 Game Cricket Fever on your Computer brings you 9 spectacular teams, each with 11 of the world's top cricketers who will play each other in the exhilarating T20 cricket format to claim their championship. This feature packed cricket game, allows you to choose from a variety of game modes, venues, and match settings to bring you an immersive and fun filling T20 cricket game experience. The Indian Premier League (IPL) is a professional league for Twenty 20 cricket championship in India.
DLF IPL 4 Game Cricket Fever It was initiated by the Board of Control for Cricket in India (BCCI), headquartered in Mumbai, Maharashtra and is supervised by BCCI Vice President Rajeev Shukla, who serves as the league's Chairman and Commissioner. It is currently contested by nine teams, consisting of players from around the cricketing world. It was started after an altercation between the BCCI and the Indian Cricket League.
Features
Realistic Faces
Original IPL 4 Tournament
Original Champions League
All Teams Anthem Songs
Boundary Song
IPL Trumpet Song
Umpire Kits
Original ALL Team Jursy
best cricket prediction site In 2010, IPL became the first sporting event ever to be broadcast live on YouTube. Its brand value is estimated to be around US$2.99 billion in fifth season. However, the league has been engulfed by series of corruption scandals where allegations of cricket betting, money laundering and spot fixing were witnessed. The Premier League is generally considered to be the world's showcase for Twenty20 cricket, a shorter format of cricket consisting only 20 overs. Top Indian and international players take part in IPL, contributing to what is the world's "richest cricket tournament". DLF IPL 4 was announced in Chennai that two new teams from Pune and Kochi will be added to the IPL for the fourth season. However, the bid around the kochi franchisee turned controversial resulting in the resignation of minister, Shashi Tharoor from the Central Government and investigations by various departments of the Government of India into the financial dealings of IPL and the other existing franchisees. Later, Lalit Modi was also removed from IPL chairmanship by BCCI. On 5 December 2010, it was confirmed that Kochi will take part in the fourth season of IPL.
The addition of teams representing Pune and Kochi was to have increased the number of franchises from 8 to 10. www.muhammadniaz.net The BCCI originally considered extending the tournament format used in previous season to ten teams, which would increase the number of matches from 60 to 94. Instead, the round robin stage of the tournament was to have been replaced by a group stage with two groups of five, limiting the number of matches to 74. But this format was replaced by another one in which each team would play 5 other teams in a two-way round robin format and there would be 2 teams against whom they would play only at home and remaining 2 teams against which they would play only away matches.Thus each team plays 14 matches.Top four teams would qualify for the Semi Finals.
In October 2010, the Rajasthan Royals and Kings XI Punjab had their franchises terminated for breaching ownership rules. The new Kochi franchise was also issued a warning to resolve all their ownership disputes. Two months later both teams were finally allowed to take part in the 2011 edition after a court ruling.
Chennai Super Kings won their second consecutive title after defeating the Royal Challengers Bangalore by 58 runs in the final. This is the first time a franchise has won two titles. The top four teams qualified for the 2011 Champions League Twenty20, which the Mumbai Indians won.

System= Pentium 4, CPU 1.8 GHz
RAM= 256MB
Size= 873 MB
Video Memory= 64MB
OS= Windows XP, Windows Vista, Windows 7 and also Windows 8

Download and Extract with WinRAR
Password= www.muhammadniaz.net
Start Game and Go to Games Modes
Select Domestic and then Go to Indian Cricket
Select DLF IPL T20
Set Fixtures AS "2006"= "20"
Select Your Team and Start Playing DLF IPL Tournament
Password= www.muhammadniaz.net
Download Links Here