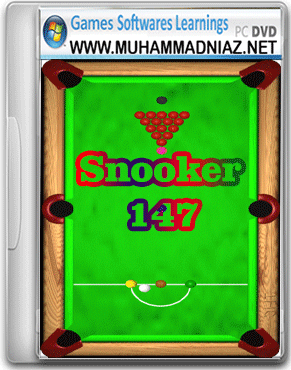 Snooker 147 Game is one of the best 2Dsnooker and pool simulations for Windows. The realistic ball motions, sound effects and detail graphics combine to offer the user an unforgettable gameplay experience which will even improve the skills for real games. If you are a fan of pool andsnooker games then you will have a divine appreciation for Snooker147. This application is 2D simulation software that allows you to play practical games of Pool and Snooker.
The Snooker 147 www.muhammadniaz.net games provide realistic graphics, movements and sound effects, thus you will get the essence of a real live game from the simulation. The gameplay is so practical that you can use it to hone your skills for actual life games.
Snooker 147 features the ability to spin the ball and you can play alone, with a friend or with the artificial intelligence which have three difficulty levels. Additionally, the program is equipped with a ball positioned so that you can set up the desired gamelayout and there is also a unique color blind feature.
Feature
Full implementation of ball spin

One or two players including 3 levels of computer opposition

Ball positioner to set up any game layout

Unique colour blind & feature.

System= Pentium II CPU 233 MHz
RAM= 64 MB
Video Memory= 8 MB
OS= Windows 98, Windows XP, Windows Vista, Windows 7 and Windows 8
Password= www.muhammadniaz.net
Download Links Here