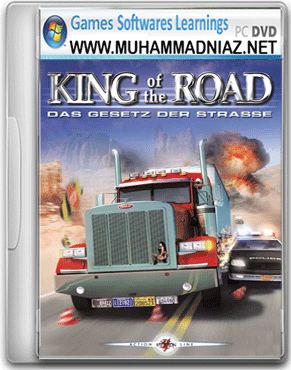 King of the Road Achieve total domination of the roads in the exciting. Hurtle along winding roads at breakneck speed in the driving cab of a huge 32-ton truck. After racing past speed cameras and jumping red lights, evading the cops along the way, you have to use skill and speed to deliver your cargo in the shortest possible time. Incredibly fast, frantic and enjoyable, King of the Road is guaranteed to be unlike anything else you've ever played.
Super-fast truck racing action, dodging police and oncoming vehicles
More than 20 massive, fully customizable trucks
Manual and Automatic transmissions
20 upgrade options to tune and upgrade your trucks
Hidden vehicles include 4×4 Off-Road vehicles and BMW M5
150km of secret roads and short-cuts
Night/Day and realistic weather cycles
There are three exciting multiplayer modes: the manic Truck Ball, the super-fast Truck Race, and the white knuckle Off-Road.
King of the Road Cheats
Press the Pause/Break button to pause the game, then type in small cheats
Unpause the game, then enter any of the codes while the game is paused.
slturbine code
Ctrl + 1 = Thrust forward
Ctrl + 2 = Thrust backwards
Ctrl + 3 = "Bunny-hop" vehicle
Ctrl + 4 = Rock car back and forth (can be used to put the vehicle on its wheels again)
(Tested on ver. 1.3)
Effect                                                                                                      Code
All roads unlocked                                                                      = slroads
Give $50,000 and a license                                                    = sllottery
No mines                                                                                         = mineoff
Press Ctrl + 5 for a free "911" call                                          = slrecover
Press [BKSP] to repair your vehicle                                      = slrepair
Show all hidden containers on map                                    = slmap
Thrust in various directions (see descirption above) = slturbine
Unlimited fuel                                                                               = slfillup



System= Pentium III CPU 733 MHz
RAM= 128 MB
Video Memory= 16 MB
Size= 289 MB
OS= Windows 95, 98, ME, 2000, XP, Vista, 7 and Windows 8