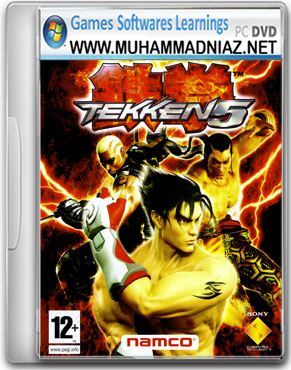 Tekken 5 After the conclusion of The King of Iron Fist Tournament 4, an intense battle between father and son, Kazuya and Jin, took place at Honmaru in the Mishima Zaibatsu headquarters. Jin emerged as the victor and Heihachi turned his back on Kazuya.
"What a pathetic wretch… Worthless coward!"
The battle between Heihachi and Jin began. Filled with anger, his black wings spread, Jin defeated Heihachi. Just as Heihachi thought he was doomed, Jin regained control of himself.
"You have my mother, Jun Kazama, to thank for your life." Jin said as he took flight.
The sounds of battle gave way to silence as Heihachi lay spread out on the ground. The silence was soon interrupted by approaching aircraft.
The roar of the aircraft increased and the sound of something being ejected was heard. A group of Jacks crashed through the ceiling. At first, Heihachi suspected that Kazuya was responsible for the intrusion but realized that Kazuya was just as bewildered by the sudden attack.
"Why are you here?" yells Heihachi as the wave of Jacks approaches. Heihachi and Kazuya battle waves of Jacks but reinforcements appear as fast as the Jacks are destroyed.
Heihachi starts to lose his breath. Kazuya betrays Heihachi, throwing him into the middle of the army of Jacks, and uses the opportunity to escape from Honmaru. Shortly after, Honmaru is devastated by a huge explosion.
Close by, the battle is watched by a man dressed in black. He raises his hand to his ear and speaks into his radio.
"Heihachi Mishima is dead…"
At that moment, a Jack attacks from behind but it cut in half instantly as the man disappears.
Honmaru is completely destroyed, a raging inferno in it's place. A pile of debris was blown apart as something emerged from the earth, unseen.
The next day, news of Heihachi Mishima's death spread rapidly across the globe. Most people believed that Heihachi's death would bring about the end of the Mishima Zaibatsu, but behind the scenes someone else had taken control, and business went on as usual.
A month later, it was announced that the Mishima Zaibatsu will hold the King of Iron Fist Tournament 5.


System= Intel Dual Core 1.8 GHz
RAM= 1.0 GHz
Size= 3.63 GB
VIdeo Memory= 512 MB
OS= Windows XP (SP3), Vista, 7 and Windows 8

This is Torrent Download File, You must be Install uTorrent in Your Computer
Click Here to Download uTorrent
1. Download utorrent Software in Your Computer 
2. Download Tekken 5 Torrent File
3. Download Pcsx2 Emulator
4. When It Downloaded just Install It.. And Then Extract All Files Of Tekken 5 And at Last You Have A File Named Tekken 5 ntsc… Just Open Emulator And Configure All Seetings. And Open File And Run Cddvd Open File Tekken 5 ntsc And Play.
Enjoy